Vegan tuna used to mean getting a can of chickpeas, a jar of egg-free mayo, some celery perhaps, and mashing it all together with a fork. Convenient? Yes. Delicious? Oh, yes. But today, the plant-based food market has evolved to include vegan options for just about everything, including tuna that matches the taste and texture of the conventional version.
Vegan Seafood's Time Is Here
The vegan seafood market is moving so fast, it's almost tough to keep up with all of the new releases. It wasn't too long ago that the plant-based frozen section in the supermarket was dominated by burgers and other alternative beef products, with the occasional appearance by a fishless filet. Now, there are several seafood options to choose from, and that's some positive news for the oceans.
As Netflix's Seaspiracy presented, many of the problems faced by the world's oceans are linked to the global fishing industry.
The real scope of the problems facing the oceans cannot be broken down in just a few words. But, to be brief, seafood production is the biggest source of ocean plastic pollution. That plastic — mainly "ghost gear" like old fishing nets — is known to harm sea life and damage habitats like coral reefs, which support more species per unit area than any other marine habitat. According to the UNEP, some of that plastic makes it into the food we eat by way of fish who mistake the plastic debris for a meal. There's also bycatch — which is when unintended species are caught in a net — and, contrary to popular belief, fish feel pain.
Thankfully, vegan seafood is easier to come by than ever before, ranging from fish sticks and crab cakes to shrimp and caviar. And, of course, tuna — both the kind you'd want for sashimi and the flaky, versatile stuff from a pouch or can.
If you're still in love with chickpea tuna, we strongly recommend that you make this recipe pronto, but if you fancy giving some new products a go, here are the best vegan tuna options on the market: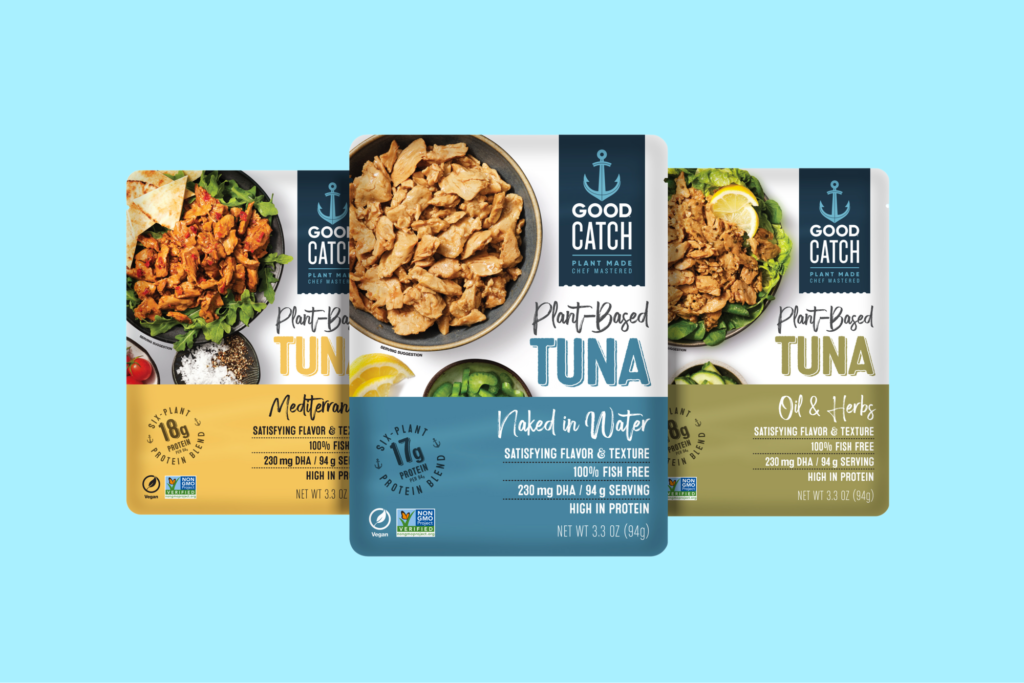 Good Catch Foods Plant-Based Tuna
Founded by pioneering plant-based chefs and brothers Derek and Chad Sarno, Good Catch Foods' plant-based tuna is the result of years' worth of tinkering to perfect the texture and flavor of seafood. Good Catch makes its tuna from a gluten-free, six-protein blend of peas, soy concentrate, soy isolate, chickpea, faba, and navy beans. And, it contains algal oil, an ingredient derived from marine algae, to give it a fishy flavor.
Good Catch's tuna comes in a one-serving pouch, which contains 14 grams of protein, and is available in three flavors: Naked in Water, Mediterranean, and Oil & Herbs. It's available online or at Whole Foods Market, Wegmans, Tesco in the UK, and other retailers.
Garden Gourmet Sensational Vuna
Sensational Vuna is a vegan tuna sold under Nestlé's Garden Gourmet brand. This vegan tuna comes in a glass jar, is made from just six ingredients, and relies on pea and wheat protein to imitate the flaky texture of tuna. According to Nestlé, its R&D team spent nine months getting its product to look and taste like tuna at its facilities in Switzerland, Germany, and the United States.
It's currently available in around 600 Coop stores across Switzerland with and will roll out to Germany this year, a Nestlé representative told LIVEKINDLY.
Loma Linda Tuno
Founded in 1933, the Loma Linda Food Company makes its vegan tuna, dubbed "Tuno," from soy protein, so it's gluten-free. It is available in several flavors, ranging from classics like spring water and lemon pepper to flavors inspired by East Asian cuisine: sriracha, Thai sweet chili, and sesame ginger. It comes in a can or a pouch, each of which contains about 8 grams of plant protein per serving, and it's a source of vegan omega-3 fatty acid.
Tuno is available online or at Walmart, Wegmans, Sprouts, and other retailers in the US and Sainsbury's, Morrisons, Asda, and independent retailers in the UK.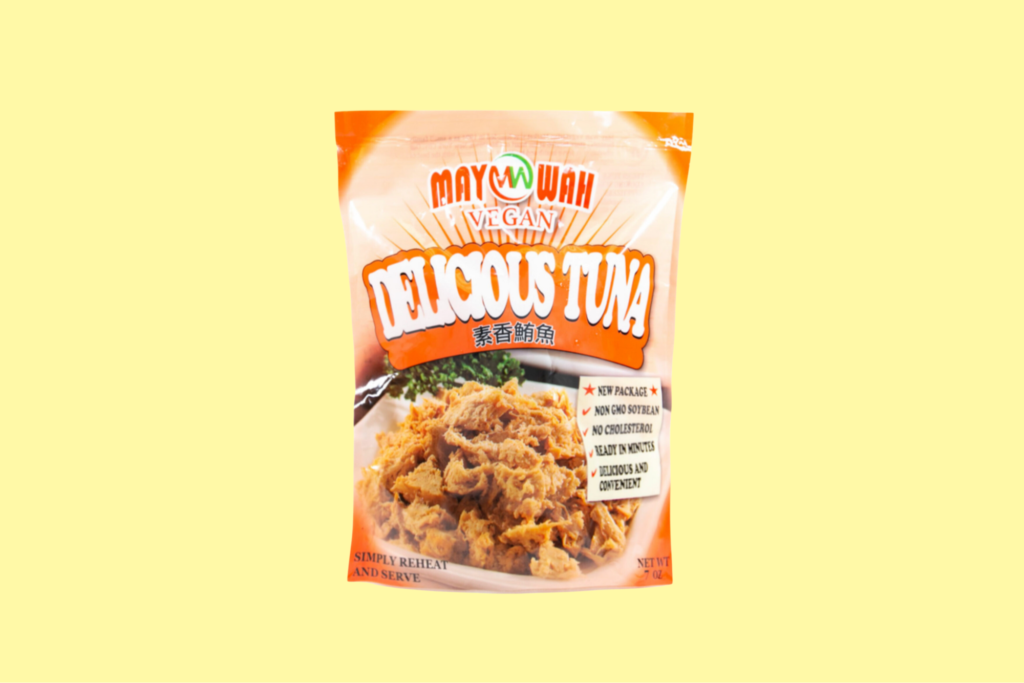 Lily's Vegan Pantry Tuna
Founded as a small family business in the heart of NYC's Chinatown back in 1994, Lily's Vegan Pantry, formerly known as May Wah, has been specializing in meat-free foods for decades. Its gluten-free vegan tuna is made from soy protein and contains a whopping 15 grams of protein per serving.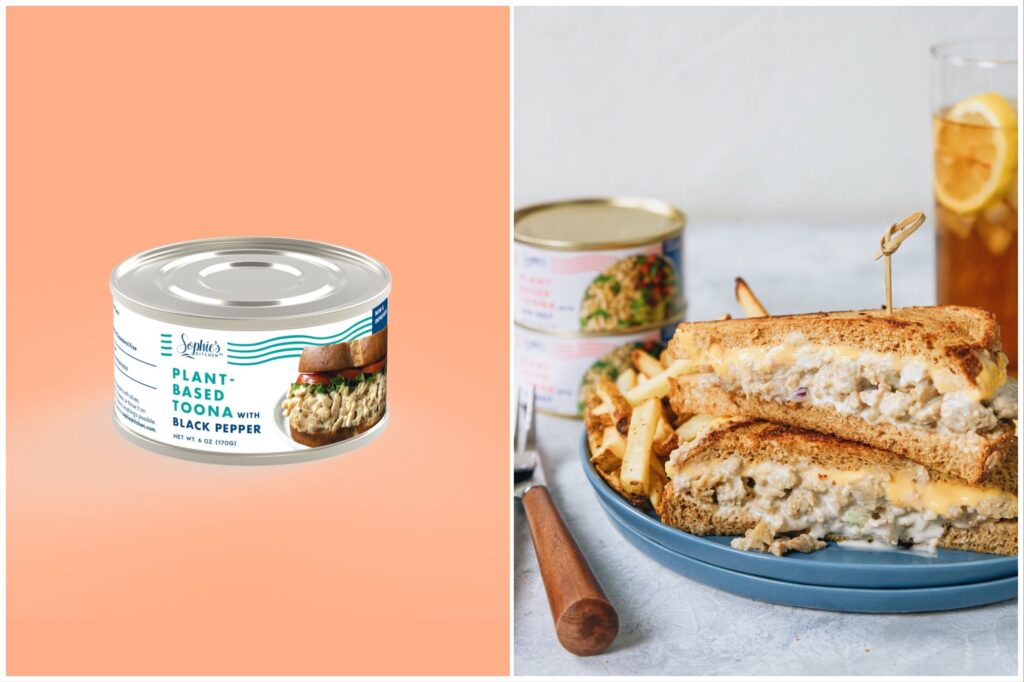 Sophie's Kitchen Toona
Made from pea protein, Sophie's Kitchen Toona has your soy-free, gluten-free needs covered and it packs 10 grams of protein per serving. It comes in two flavors, Sea Salt and Black Pepper, and is available online or at independent retailers in the U.S.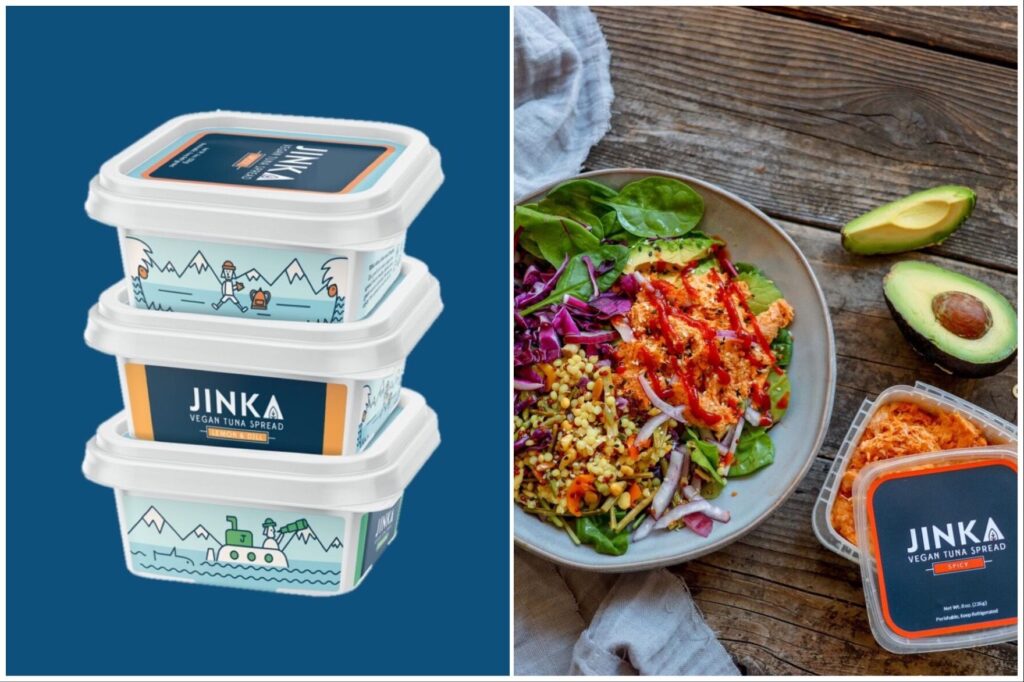 Jinka
A newcomer to the scene, California-based brand Jinka makes vegan tuna spreads that are perfect for anyone who needs a quick meal — just pair it with bread or crackers and you're good to go. This fish-free tuna is made from a blend of soy and wheat, it contains 14 grams of protein per serving, and it also gets you the daily recommended omega-3 intake thanks to algal oil. It also comes in three flavors: Original, Spicy, and Lemon and Dill.
LIVEKINDLY is here to help you navigate the growing marketplace of sustainable products that promote a kinder planet. All of our selections are curated by the editorial team. If you buy something we link to on our site, LIVEKINDLY may earn a commission.