It's nearly time for the big game, a perfect excuse to host your friends and family for a night of team sports and comfort food. (Team sports of course referring to both Super Bowl LVI and tag teaming a huge bowl of spinach artichoke dip with your nearest and dearest.)
With more Americans thinking about sustainability and eating plant-based than ever before—including NFL players like Cam Newton—this is the perfect time to try out some delicious meat-free dishes and wow your guests with your skill in the kitchen.
Enjoy a three-bean chili complete with dark chocolate for depth of flavor and umami, spicy peanut-garnished kung pao cauliflower, jackfruit tacos, and the mother of all mac-n-cheese burgers. Still got room for more? How about that creamy spinach-artichoke dip, perfect for chips, bread, crackers, fresh veggies, and anything else you can imagine scooping it with.
Get ready for a truly super Sunday with these vegan super bowl recipes.
Vegan Super Bowl recipes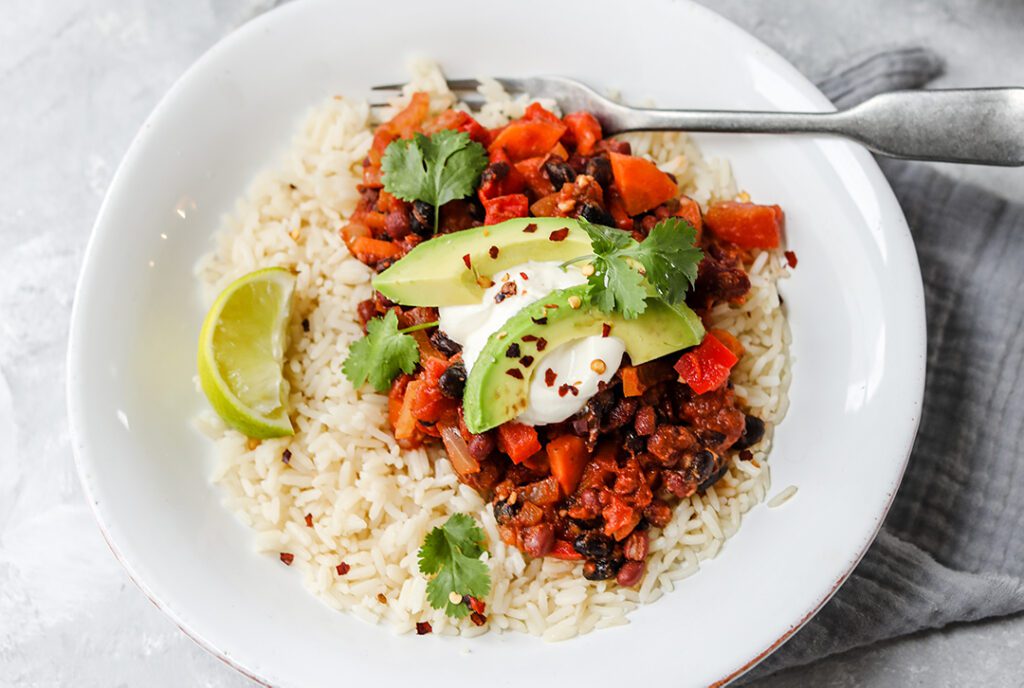 Umami three-bean chili
Searching for the perfect three-bean chili? Well, look no further than this delicious, nutritious, and vegetable-packed surefire hit. Best served with rice or chips (why not both?), plant-based sour cream, avocado, fresh coriander, and chili flakes.
Kung pao cauliflower
This veganized kung pao recipe swaps chicken for cauliflower and makes a fantastic alternative to stir-fry and curries. The ginger and spices mean it packs a punch, but it also has a richness thanks to the coconut cream and maple syrup. Garnished with peanuts and green onion, kung pao cauliflower makes a great everyday recipe as well as a shared meal for the Super Bowl.
Mac and cheese burger
If you need a showstopping dish to impress all of your meat-eating friends and family, this vegan mac-n-cheese burger is the one. It combines plant-based chicken patties with creamy macaroni for a meaty, cheesy, double-decker feast.
Jackfruit tacos
Jackfruit is dense, fibrous, sweet, and a fantastic alternative to pulled pork. These tacos combine jackfruit with veggies, spices, vegan sour cream, and avocado for a healthy, flavorsome, and easy-to-prepare meal, making it a great recipe for anything from the Super Bowl to Valentine's Day.
Spinach artichoke dip
Swapping dairy for nutritional yeast, cashews, and almond milk means that this artichoke dip is just as cheesy and delicious as you remember, but without the impact of traditional animal-derived ingredients. Best enjoyed bubbling hot and straight from the oven.