Mother's Day is almost upon us and even if some of us can't be with our moms, or whoever has been a mother figure in our life, we can still shower her with love and appreciation across imaginary borders. But, what are we to do when we (and mom) also care about the impact that gift-buying has on the planet and animals? Fear not — we've curated a list of eco-friendly Mother's Day gift ideas, from sustainable shoes to professional vegan cooking classes. After all, mom has been there for us, and these gifts (along with a well-timed phone call) is a great way to show how much we appreciate her and the Earth.
Vegan Stan Smiths
With its clean, minimalist look, it's really no wonder why Adidas Stan Smiths have been a classic for decades. These days, the sportswear giant is far more eco-minded and has graced the world with these vegan Stan Smith sneakers. The shoes feature the same timeless silhouette as the 1973 original but are made from Primegreen, a high-performance material made from recycled polyester. Mom will surely be happy that her kicks are helping to keep plastic out of the ocean.
Fossil Kier Cactus Leather Tote
Everyone knows that moms need a big bag to hold all of their mom stuff. And this big ol' tote from Fossil fits the bill — according to the specs, it fits a 15-inch laptop with room to spare, and it looks stylish to boot. The coolest part, though? This tote is made from cactus leather, a sustainable material developed by a Mexico-based startup called Desserto that's made from the leaves of the nopal cactus. Each tote saves 7.5 liters of water, plus growing all of those cacti doesn't require pesticides or herbicides that can seep into the water. And, the lining is made from recycled polyester. So it's a win win.
Cruelty-Free Beauty Box Subscription
The beauty-and-skincare-loving mom will appreciate a subscription to Kinder Beauty, a cruelty-free and vegan beauty box brand founded by actresses and eco-minded entrepreneurs, Daniella Monet and Evanna Lynch. Each box features a mix of products that are always vegan, always cruelty-free, and have the bonus of featuring eco-friendly packaging, and never any harsh sulfates, mineral oil, microbeads, and other questionable ingredients that often end up in products.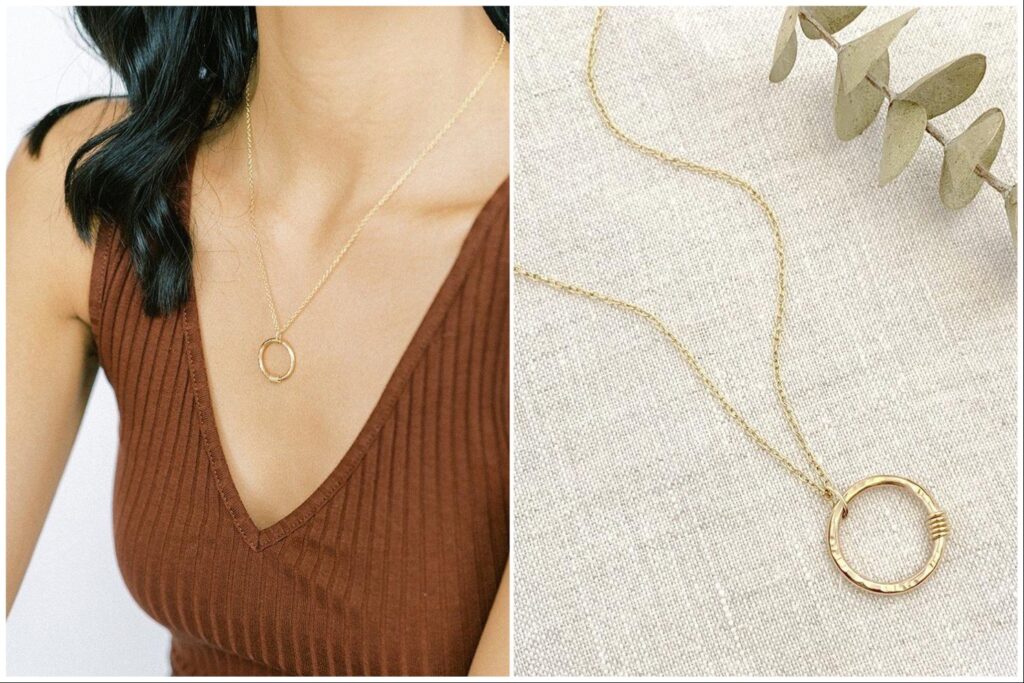 Recycled Gold Jewelry
St. Louis, Missouri-based jewelry designer Sara Patino is all about minimalist styles that have minimal impact on the planet. This stylish necklace is made from US-sourced recycled gold and is meticulously crafted by hand in small batches using traditional hand-fabrication techniques. This is a triple-positive for the planet. Mining metals, international import and export, and the mass-production of machine-made jewelry all contribute to carbon emissions. Plus, Patino recycles and reuses her scrap metal. Plus, with a design so timeless, it'll be a staple in mom's jewelry rotation for years to come.
Manduka Eko Yoga Mat
This yoga mat made from biodegradable, sustainably-harvested non-Amazon tree rubber will be a winner in the eyes of the asana-loving mom. Plus, it's made with eco-friendly foaming agents, a process used during the manufacturing process that softens the feel of yoga mats. And it's naturally grippy, so your mom won't slip and slide while practicing her downward-facing dog.
DIY Bath Bombs
The crafty mom will truly appreciate this DIY organic bath bomb kit and class, which walks you through the steps of making 16 fizzy mini bath bombs. Scents include rose petal, chamomile, and lavender, all from natural essential oils. And when mom is done, she can wrap up her bath bombs in a reusable furoshiki cloth as a wonderful gift for, well…herself! She deserves it.
Indoor Gardening Box
For the hands-on mom who loves to cook, Planted's indoor gardening boxes make a great gift. These kits come with everything she needs to grow greens, herbs, and more, tailored to how mom likes to use her fresh produce, like smoothies and salads. Or, mom can let Planted to the picking, and they'll send her a selection of seasonal leafy lettuces and herbs that get shipped right to her door.
Tushy Bidet
Our moms are most likely the ones who taught us that "Everybody Poops." Now, you can finally pay it forward by helping her save money on toilet paper and save trees. You're welcome, mom!
A Meaningful Book
Reading Rainbow host LeVar Burton taught us as children that reading books is a gateway to opening your mind and stimulating your imagination — a lesson that we all, mom included, can embrace in adulthood. Buy mom a book that's had a huge impact on your life, or a giftcard to your favorite local bookshop.
You can also get her a digital gift card to a website like IndieBound, which links to thousands of independent booksellers across the country. Supporting local businesses helps keep money in the community, which means money for parks, schools, and other businesses around your neighborhood.
A Waffle Maker
In 2001's Shrek, Donkey proclaimed "In the morning, I'm making waffles," and that iconic phrase entered the lexicon of a generation, and with good reason — waffles rule. And if you need sustainable brunch ideas, we recommend trying out these unique vegan black sesame waffles by recipe developer Lisa Kitahara.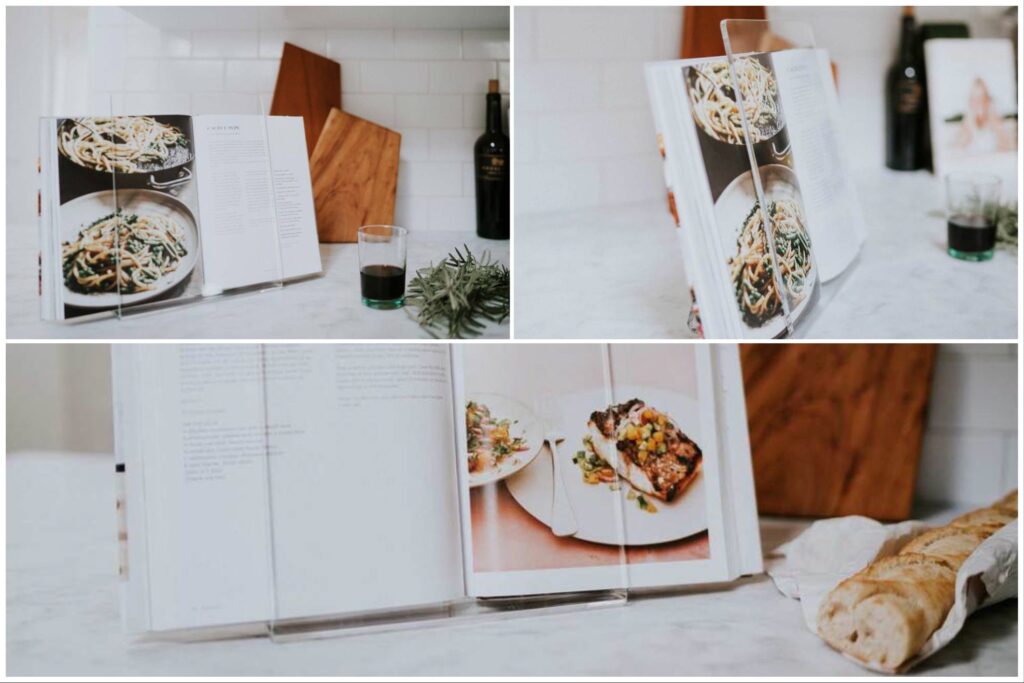 Recycled Lucite Cookbook Holder
Few things are as annoying to home cooks as trying to lean a cookbook up against the kitchen wall, only to have it fall over or for you to lose your place. This 100 percent recycled lucite cookbook holder will keep pages secure and free from splatters.
An Online Vegan Cooking Class
Developed by celebrity chef Matthew Kenney, the Future Food Institute will take mom through the foundations of making delicious plant-based food with an emphasis on traditional technical culinary practices.
A Kitchen Composter
This cool-looking, odorless kitchen composter turns food scraps into nutritious fertilizer for your plants. Just drop your fruit and veg scraps and leftover grains into the top and let the worms-in-residence do the work. They turn scraps into worm castings (the term for worm manure in the gardening world), which are packed with beneficial enzymes and microbes.
For the Dog Mom: Sustainable Treats
Show your favorite dog mom some love. These Wild Earth dog treats are not only vegan, but they're also made with koji, a fungi that provides complete, sustainable protein to pups.
A Plantable Card
This card is embedded with wildflower seeds that grow when you plant it. Not only that, but it's also printed on recycled paper, it's shipped in a recycled envelope, and it's protected in a compostable card sleeve. It's a win for the garden-loving, eco-conscious mom on all counts.
---
LIVEKINDLY is here to help you navigate the growing marketplace of sustainable products that promote a kinder planet. All of our selections are curated by the editorial team. If you buy something we link to on our site, LIVEKINDLY may earn a commission.