Taco Bell is testing vegan beef that was crafted in-house at the Taco Bell Test Kitchen.
The popular Mexican fast-food chain confirmed to LIVEKINDLY on Wednesday that the new proprietary, plant-based protein is currently being trialed in California, as part of a new vegetarian menu item called the Cravetarian Taco.
The meat-free dish features "boldly seasoned" vegan beef made from a blend of peas and chickpeas, cheddar cheese, lettuce, tomatoes, and sour cream in a corn shell. The chain is billing this newbie as a vegetarian version of the original Crunchy Taco Supreme.
Taco Bell fans can sample this vegetarian meal at the restaurant's Tustin, California, location on Red Hill Avenue until April 29, while supplies last.
And that's not all! While the Cravetarian Taco is vegetarian, Taco Bell lovers can customize almost any menu item with the new vegan beef. While some restaurants charge extra for vegan items, Taco Bell will allow customers to substitute its plant-based protein at no additional charge.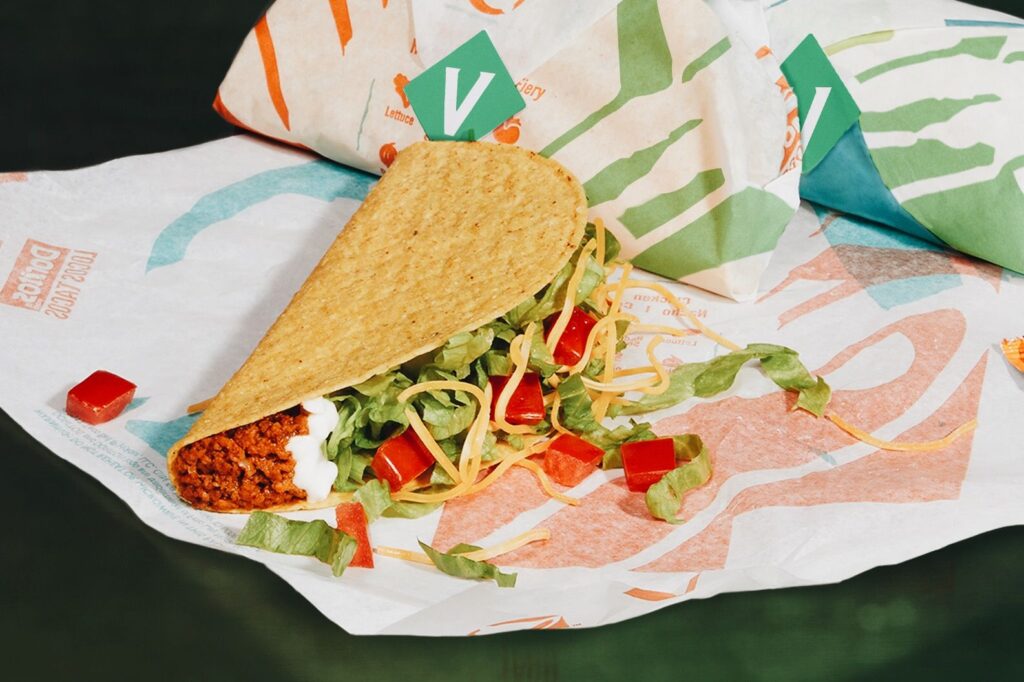 Taco Bell to Test More Vegan Options
Although Taco Bell created this vegan beef on its own, it is still working with California-based brand Beyond Meat. The two announced a partnership in February, which will see to the development of additional vegetarian and vegan dishes.
In fact, the companies are currently working together to create an entirely different plant-based protein. According to Taco Bell, it "offers a unique twist without compromising on craveability."
This other new protein is slated to appeal to an even broader audience of consumers. It is expected to trial in the coming year, though details on specific timing and market(s) are not yet available. 
The Cravetarian Taco is the latest example of Taco Bell making good on its promise to provide additional vegetarian options. In March, Taco Bell reintroduced potatoes after a brief absence and made the spuds a permanent menu item. The chain also teased that there are more meat-free options to come.
"We have long been a leader in the vegetarian space, but this year, we have more meatless options in store that vegetarians, veggie-curious, and even meat-eaters will love," Liz Matthews, Taco Bell's global chief food innovation officer, said in a statement at the time.