Walking through the hustle and bustle of Camden, London, I recently came across a new Chinese restaurant. The menu had everything you would expect: prawn toast, Szechuan chicken, Peking duck pancakes. As my clean plate could testify, all of it was delicious. But, despite the familiar names, none of the dishes contained any animal products. And I wasn't surprised in the slightest.

If there is one thing London has become really, really good at in the last few years, it's vegan food. Next to the Chinese restaurant, called Vegan Planet, you can find Temple of Seitan, a vegan fried chicken shop, and Purezza, a plant-based pizza parlour. In fact, in total, London has around 1,000 vegan and vegan-friendly restaurants. It's exciting for a plant-based foodie, but not exactly unique; capital cities often showcase a country's most diverse and exciting culinary options. But what's more noteworthy is that London is now just one part of a wider, plant-based picture. From supermarket shelves to country pubs, not only is vegan food starting to become a given everywhere in the UK, but an abundance of it is too.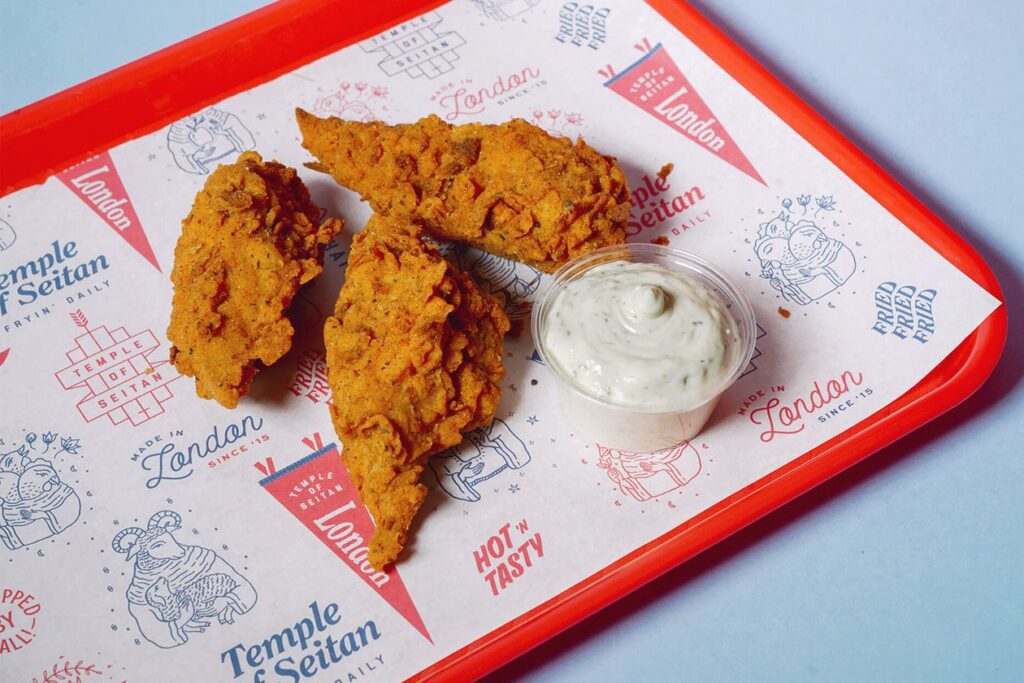 A world leader in vegan food
In 2018, meat-free products made up 16 percent of food launches. This was double the amount from 2017, and resulted in market research firm Mintel awarding the UK the title of world leader in vegan food. For a nation famous for its love of roast beef and fish and chips, that accolade seems initially surprising. But earlier this year, a YouGov study commissioned by Veganuary—an initiative that encourages people to give up animal products for January—found that one-third of Brits are interested in becoming vegan.

But increasingly, it seems that whether or not people decide to make the dietary switch is irrelevant. Because a key driver of the plant-based food market isn't vegans, it's flexitarians. These are people who choose to reduce meat rather than cut it out completely. Another study commissioned by vegetarian meat brand Quorn last year found that 41 percent of British families follow a flexitarian lifestyle.

Though the start of the pandemic saw the flexitarian movement slow, this was only temporary. According to Mintel, nearly half of Brits are limiting their meat consumption again. The market research firm also predicted that meat sales will fall this year.

Richard Caines, Mintel's senior food and drink analyst, says the start of the pandemic likely saw meat sales rise because people were seeking comfort in familiar food habits. Now that they are more used to COVID-19 restrictions and changes, they are starting to limit their meat intake again. "Meat reduction has returned to around the level seen in 2019," he explained. "This follows a dip in 2020, when other priorities likely became more pressing in food and drink choices."
Flexitarians drive a vegan food boom
It turns out, caring for the planet—and the climate anxiety from worrying about our environmental future—may be spurring the flexitarian boom.

In the last few years, mainstream media platforms have reported on major studies—like the largest ever food production analysis in 2019—that link meat and dairy with some of the planet's biggest environmental problems, like carbon emissions and deforestation. Trusted environmentalists, like Greta Thunberg and David Attenborough, have advocated for meat-free living for the purpose of protecting the planet. And celebrities play a role too. Paul McCartney, arguably one of the most famous of all Brits, co-founded Meat Free Monday with his daughters Stella and Mary. The organization encourages consumers to ditch animal products for one day a week.

Mintel's research noted that around 47 percent of consumers believe that eating less meat has environmental benefits. People are also concerned about the health consequences of eating meat, with several widely-reported studies linking processed animal products with an increased risk of disease. Animal rights is another key argument; thanks to the growth of social media, organizations like the UK's Humane Society and activists like Earthling Ed, have bigger platforms than ever.

Caine agrees that the media plays a significant role in changing people's habits. "The fact that nearly half of adults now either don't eat meat or are limiting intake poses a challenge for the meat industry and points to vast further potential for meat substitutes' growth, if they can win favour as the alternative," he observes. "It offers compelling evidence of how media coverage around meat has reached consumers."

But it's not enough just to give information. The UK is proving that change comes when it is easy to act on that information. People have routines, families, busy lives, so even with the best will in the world, making changes to food habits can be hard. Hunting down a health food shop or finding a specific restaurant that caters to every person's needs and desires can be a feat of labor. And that's why a key factor in Britain's plant-based boom is easy accessibility.
The rise of supermarket vegan ranges
In 2022, every single major supermarket in the UK has a vegan range. But it all started with the nation's biggest, Tesco.

Back in 2017, a spicy bean burger was still the standard veggie option on supermarket shelves. But Tesco spotted a gap in the market. It quietly hired Derek Sarno—one half of vegan chef duo Wicked Healthy (the other half is Chad, his brother) and former Senior Global Executive Chef for Whole Foods—as its director of plant-based innovation. Tesco's goal was, in Sarno's words, "to pop the cap off the vegan movement in retail."

Together, they created Wicked Kitchen, a 20 product-strong range of vegan ready meals, pizzas, sandwiches, and desserts that hit shelves in 2018. Though by today's standards, it would be viewed as a notable but standard UK launch, at the time, it was groundbreaking. The range was a hit with shoppers, so before the end of the year, Sarno and Tesco doubled it in size. Other supermarkets were noticing its popularity and beginning to launch new vegan options, but not at the same rate. "Retailers were scrambling to catch up and make their own offers," recalls Sarno.

Tesco was ahead of the game in working out that consumers wanted more plant-based options. But it was also unique in how it chose to address the situation, explains Sarno. The supermarket giant hired a mission-driven chef with extensive vegan food experience to guide innovation. And as a vegan who loves meat—his Wicked Healthy cookbook includes recipes for meals like BBQ jackfruit sliders and vegan lobster rolls—Sarno knew exactly what he was doing. "Most other retailers and brands have a bunch of meat eaters sitting around a boardroom table trying to decide what vegans and meat eaters might want," he says. "They were trying to capitalize on an industry without leading by example."

Tesco had a head start, but it didn't take long for competitors to adapt. From expensive Waitrose to affordable Lidl, vegan products are now commonplace on supermarket shelves—and every launch gets more creative. Retailers have moved on from the basics of nuggets and sausages, and are now coming out with products like steak, chorizo, salmon, and fish cakes, all made from plants.

The UK's vegan boom may be driven by major corporations, but it seems that even small vegan brands are benefiting from their support. Many were offering plant-based products before the movement hit the mainstream, but now they can reach a wider audience. White Rabbit Pizza, for example, started off as a small vegan-friendly brand in 2015. It now offers vegan pizza in Sainsbury's and Waitrose, two of the UK's biggest supermarkets. Dairy-free chocolate company Vego used to stock products in specific vegan or health stores, but now it's partnered with Asda and Co-Op.
With McDonald's and the local pub on board, are Brits looking at a vegan future?
Restaurants have caught on to plant-based food's popularity too. Happy Cow reports there are more than 14,000 vegan and vegan-friendly restaurants in England alone. KFC, Greggs, Pizza Hut, McDonald's, and PizzaExpress are just a few of the nation's biggest chains with plant-based options on the menu. Just like a stroll down Camden high street, if you visit a chain restaurant today, there's a slim-to-none chance you'll be met with zero plant-based options.

The situation is only going to improve. McDonald's UK opened its first net zero restaurant last year. At the time, Beth Hart, the chain's spokesperson, hinted that its future menu could feature even more vegan options. "I think it will look very different," they said. "It's not so much about influencing choice, but offering alternatives."
Many of the nation's most popular and influential chefs have embraced vegan cuisine too. Gordon Ramsay, formerly renowned for his anti-vegan stance, publicly changed his mind in 2019 when he made vegan roasts available at his London restaurant Bread Street Kitchen. In response to criticism (namely from notoriously controversial presenter Piers Morgan), Ramsay said: "Veganism is on the rise. We've got to adapt and eat a slice of humble pie." Since then, vegan recipes have shown up frequently in his online content, and he has even devoted several YouTube videos to Veganuary.

Jamie Oliver has also forged into meat-free food, with his 2019 cookbook "Veg" and Channel 4 cooking show Jamie's Meat-Free Meals. And last year, Michelin star chef Alexis Gauthier removed all of the meat from his London restaurant Gauthier Soho and opened a new plant-based cafe, called 123V.
The average Brit isn't visiting Michelin restaurants on the regular. But most of them are going to the pub, arguably a cornerstone of British culture. Greene King, Wetherspoons, and Fullers are three of the nation's biggest pub chains, and all of them now offer vegan options. As for independent-owned spots, there has been more than one recent news story about landlords choosing to switch up their pub grub with a new meatless menu.

A more flexitarian lifestyle even has government backing. Last year, a report outlining a new food strategy for the UK labelled meat consumption as unsustainable. A reduction in animal products was necessary for freeing up land, it noted. It recommended the government set a target of slashing consumption by 30 percent by 2030. If this was implemented, it would show the rest of the world that meat is a serious climate issue that constitutes serious action. It would give flexitarians even more validation, and the positive reinforcement to keep going.

All things considered, Sarno reckons a plant-based future is the only feasible conclusion for the UK's food industry. "It might not be in my lifetime," he says. "But it will happen." And who knows? Maybe he's right. Unprecedented changes happen all of the time. Just half a decade ago, a McDonald's net zero restaurant would have been the punchline of a joke.
The views expressed in opinion pieces are those of the author(s) and do not represent the policy or position of LIVEKINDLY.