Singapore's OsomeFood just developed a whole vegan hard-boiled egg.
The company produces the realistic-looking OsomeEgg through the fermentation of mycoprotein, the same fungi used by prominent vegetarian meat producer Quorn. The ingredient is high-protein and contains many of the essential amino acids found in traditional animal products.
In addition to mycoprotein, the OsomeEgg also includes ingredients such as carrot juice, almond milk, potato starch, olive oil, wakame, black salt, and nutritional yeast. The eggs are purchased frozen, and according to the manufacturer, best thawed overnight in the refrigerator and consumed chilled.
OsomeFood Fishballs, Fishcakes, Noodles, and two varieties of Wellness Hamper gift sets are also available from the company's website. The gift sets include both vegan fish products along with "wellness" ingredients such as cordyceps flowers, wolfberries, ginseng, echinacea, and turmeric, as well as nutritionist-designed recipes.
OsomeFood has spent a decade on R&D for its nutrient dense ingredients, and aims to meet customers' "health needs" as they switch from animal products to plant-based.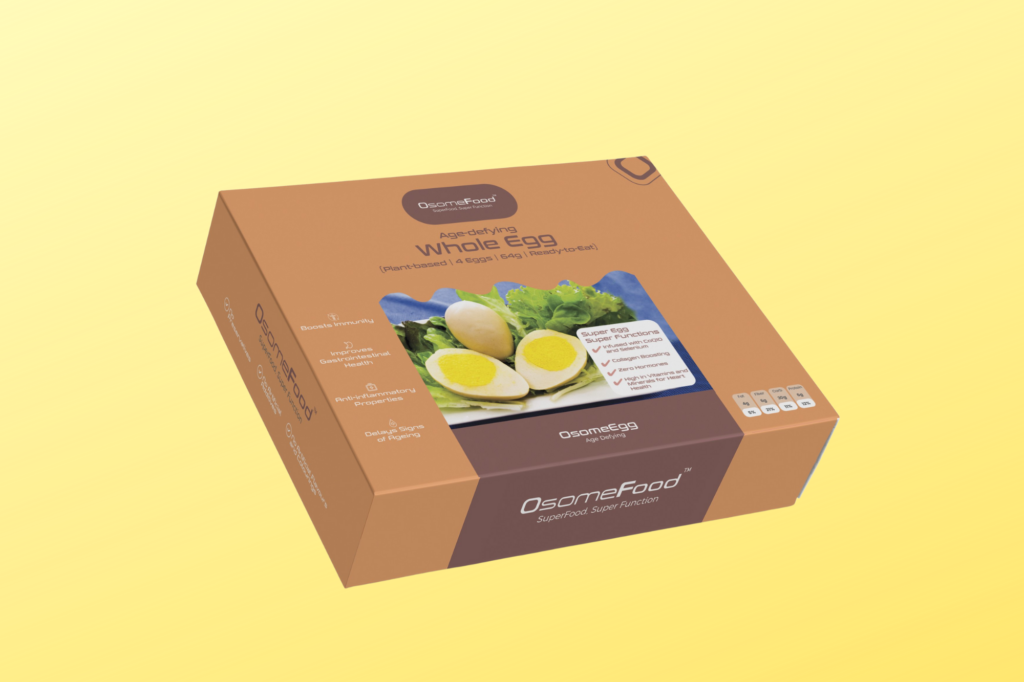 Vegan hard-boiled eggs: a world first?
According to OsomeFood, the new vegan hard-boiled egg is the world's first nutrition-focused and plant-based product of its kind. (Though a variety of recipes and vegan boiled egg hacks have existed for years, including a cholesterol-free legume-based version developed by students back in 2017.)
The vegan egg market is growing fast, with demand from Chinese consumers, in particular, reaching unprecedented levels in the last year. Recent data released by the Plant Based Foods Association reports that the U.S.'s plant-based egg category also experienced growth, with a 168 percent increase in 2020 and $27 million in sales.
California's Eat Just one of the most popular and recognizable vegan egg producers in the world, recently announced that it is working to launch its vegan egg products in the EU, potentially before the end of the year.
Are vegan eggs better than chicken eggs?
Animal agriculture is resource-intensive and factory farming, in particular, creates excessive pollution and waste.
Critics maintain that raising animals for food is cruel and unnecessary, and the egg industry is no exception. Egg-laying hens typically experience the same confinement, mistreatment, and early death as those raised for meat.
While reports that traditional eggs are unhealthy have been disputed, data does suggest that plant-based versions are better for the planet, the animals, and human health.
"It is more healthy, you don't need the chicken. In order to eat an animal, you need to slaughter, you need to use antibiotics, you need to tear down the rainforest. Or maybe this used to be the case, it's not anymore," said Eat Just CEO Josh Tetrick in a statement sent to LIVEKINDLY.
OsomeFood claimed in a 2020 white paper that its signature mycoprotein ingredient uses 90 percent less land and water than the production of traditional animal products.
"Plant-based foods is saving lives. Life in our oceans, on land, and our environment, slowly helping balance our planet," OsomeFood notes on its website. "It's time to boost our immune system. It's time to get stronger and healthier, with the world's first nutrition-focused whole food plant-based functional food."
A box of four frozen OsomeEggs costs $14.99 from the company's website.