Celebrated annually on the first Monday in September, Labor Day honors the contributions of America's workers. And because the national holiday is one of the most common paid holidays (the kids are off, too!), what better way to celebrate the three-day Labor Weekend than with a delicious barbecue spread?
So, fire up the grill and get cooking. From mains to sides—and even dessert!—we've got everything you need to make the tastiest and most indulgent vegan Labor Day meal.
Vegan foods to make for Labor Day
What's a barbecue grill without a burger? We've put together a list of the best vegan burgers on the market that you can grill up for Labor Day. For a looks-and-cooks-just-like-meat option, cook up Impossible Foods or Beyond Meat. Or, stop by Trader Joe's for a budget-friendly plant-based burger. (Less than $5 for a pack? Sign us up!) Top with dairy-free cheese, pickles, tomatoes, grilled onions, and lots of ketchup. And don't forget the fries.
Not a fan of burgers? Then opt for a hot dog (or indulge in both!). You can't go wrong with Tofurky's jumbo hot dog and sausages. (The hot dogs pack 17 grams of protein per serving!) Lightlife also makes jumbo hot dogs that are equal parts juicy and delicious. Or, throw Upton's Naturals' vegan hot dogs on the grill. They're made from a meaty blend of seitan and seasoned with the likes of mustard and celery seeds. Ketchup, mustard, relish—go crazy with the condiments.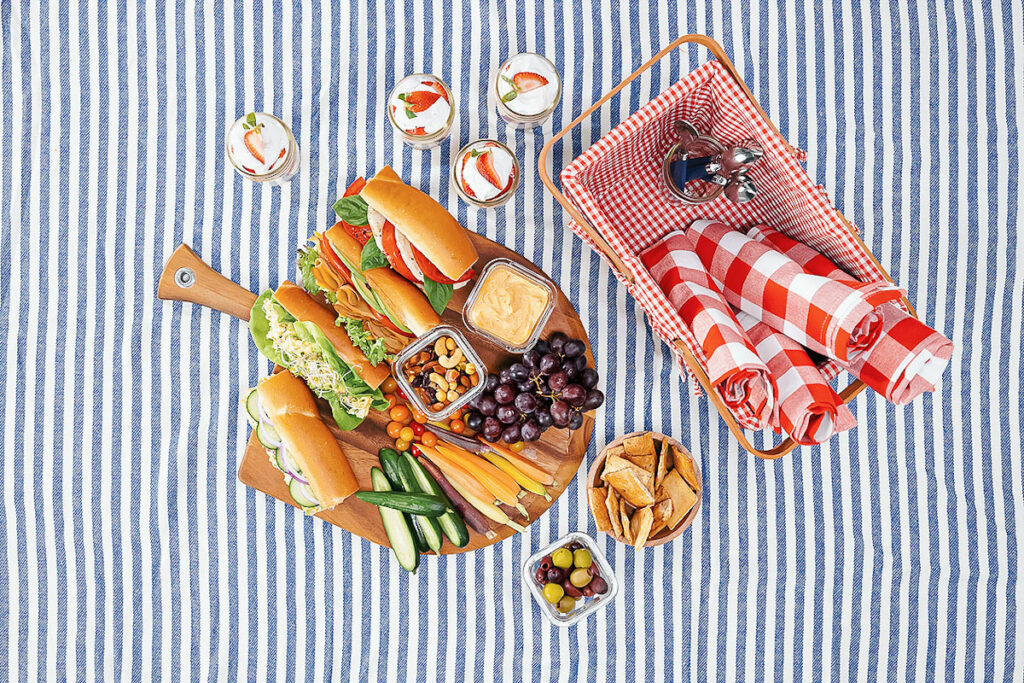 What's a Labor Day weekend picnic basket without delectable veggie sandwiches? This spread is definitely summer-approved. It features four mouthwatering sandwiches—chickpea tuna, tofu egg salad, a vegan club sandwich, and a vegan Caprese salad sandwich—all made on one baguette! Our tummies are grumbling already…
Can you tell that we like sandwiches? These park picnic recipes are almost too good to eat (we said almost…). The first sandwich recipe is a vegan take on a French classic: a jambon beurre. (That's ham and butter on a baguette. Bon appétit.) This veganized version features the same great taste, minus the animals. Or, opt for a simple, yet satisfying, tempeh sandwich. The tempeh is marinated in curry and features mushrooms, carrots, and raisins.
And, last but certainly not least, dessert. Because it's not a complete meal until you've bitten into a decadent dessert. These three vegan dessert recipes are perfect for Labor Day. Plus, they make the most out of summer fruits like strawberries and blueberries. Whip up a no-bake, vegan cheesecake. Or, try a blueberry pie with a flaky lemon crust. And you can't go wrong with a strawberry galette. This French pastry features a buttery crust and a whole lot of strawberries.
---
LIVEKINDLY is here to help you navigate the growing marketplace of sustainable products that promote a kinder planet. All of our selections are curated by the editorial team. If you buy something we link to on our site, LIVEKINDLY may earn a commission.