These Indian-Jewish vegan Passover recipes are perfect for a two-person Seder.
A week-long celebration, Passover commemorates the liberation of the Israelites from Egyptian slavery. The Passover Seder marks the start of the Jewish holiday and features a traditional dinner of many symbolic dishes that are not vegan-friendly.
Serve a delicious-looking meal this Passover with these three vegan recipes. The vegan kofta kebabs feature potatoes, soy mince, onion, garlic, and an array of tantalizing spices. These include chili powder, cumin, coriander powder, and turmeric. Serve these kebabs with a dairy-free mint yogurt chutney dip.
And for the second course: Chaat salad. The plant-based salad features tomatoes, cucumbers, onion, chickpeas, and chaat masala, among others. Drizzle on the homemade dressing made with fresh lemon juice and date syrup.
Dinner wouldn't be complete without dessert. Round out your Passover meal with chai spiced matzo toffee. The best part about this vegan Passover recipe is that you only need six ingredients to make it. These include matzo, vegan butter, brown sugar, vegan chocolate, chai spice mix, and chopped mixed nuts.
Vegan Passover Recipes
Indulge in a vegan Passover feast with these three plant-based recipes.
Vegan Kofta Kebabs
These vegan kebabs feature potatoes, soy mince, onion, and various spices. In order to whip this Passover dish up, you will need a food processor or a blender and a grill pan.
Chaat Salad
This chaat salad is as nutritious as it is delicious.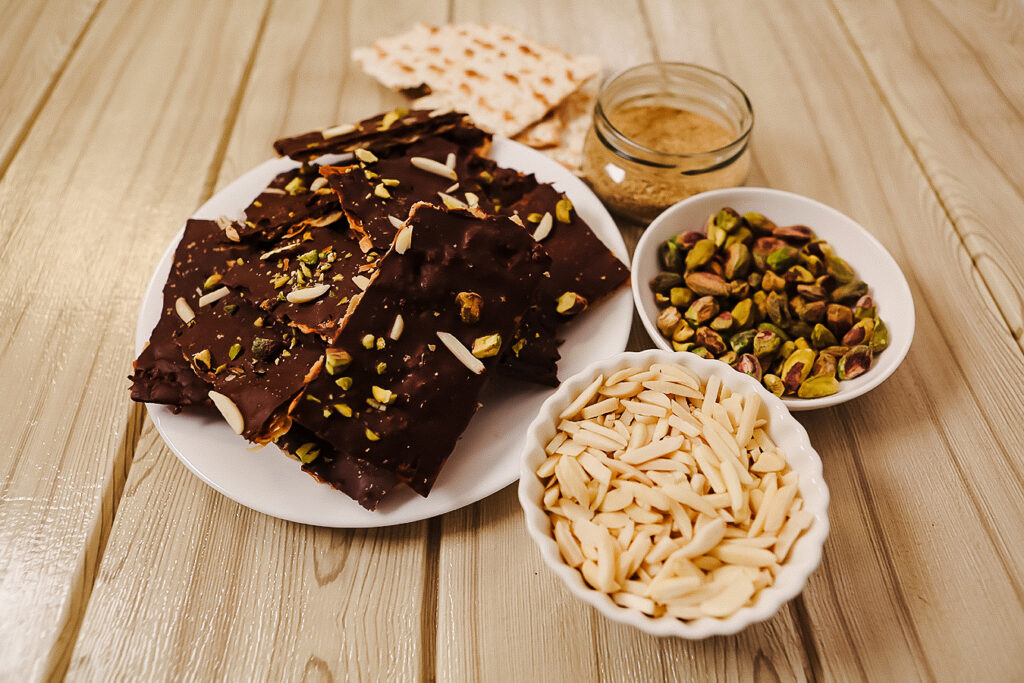 Chai spiced matzo toffee
This chai spiced matzo toffee can be whipped up in under 30 minutes using only six ingredients.
---
LIVEKINDLY is here to help you navigate the growing marketplace of sustainable products that promote a kinder planet. All of our selections are curated by the editorial team. If you buy something we link to on our site, LIVEKINDLY may earn a commission.