(Updated March 29, 2021) | What do the Kardashians do for the environment? Quite a lot, actually! 
The 20th and final season of Keeping Up With the Kardashians begins on Thursday, March 18. And while there have been plenty of drama-filled moments over the past 14 years, the platform that the famous family has given to important issues, such as sustainability and climate change, shouldn't be overlooked.
Despite their negative impact on these very issues (more on that below), the Kardashian clan's desire and ability to talk about important issues both on and off their show, has ensured that a global audience pays attention.
Do The Kardashians Really Care About Sustainability?
We can't not see the private-jet travel, Instagram posts with leather bags, or the grandiose, material nature of their lives, but the Kardashians have actually used their platform to promote sustainable living in numerous ways—and there's clear evidence to suggest that their fans are listening, and even holding the famous family accountable.
For example, Kourtney, who was the first member of her family to rid her home of plastic bottles in an effort to help the environment, got flack for drinking from a plastic bottle during a Keeping Up With the Kardashians episode that aired in December 2019.
"Love love love that @kourtneykardash gave @KimKardashian shit for drinking bottled water and in the VERY SAME episode, she is seen drinking bottled water," a fan wrote on Twitter at the time. "So chaotic, I love it."
As the viewer intimated, Kourtney gave Kim a hard time when she saw her drinking out of a plastic bottle, and a few scenes later, she was caught red-handed doing the very same thing.
Kourtney owned the mistake and acknowledged that she isn't "perfect."
"I was in Kim's office and that's all that was there and no, I'm not perfect, but I could have brought a reusable bottle for the day, this is true," she tweeted back.
The Kardashians Love Their Private Jets
While yes, it's great that Kim is promoting her vegan lifestyle and that Kylie has a vegan brand, the sisters still engage in behaviors that have a negative impact on the planet, such as frequent private jet travel.
According to a 2018 study, private jet passengers account for 10 times as many greenhouse gas emissions as a commercial traveler, and 150 times more than train travelers. And a 2019 report revealed that private jet travel in the UK alone contributes to approximately one million tonnes of CO2 emissions annually.
Every member of the immediate Kardashian family has been photographed traveling on a private jet at least once, and, because of their fame, it seems most of the family exclusively flies private. In fact, Kylie reportedly purchased her own private plane last year for nearly $73 million.
In August 2019, when Prince Harry and Meghan Markle were criticized for using Elton John's private jet to fly to France, the singer assured critics that the trip was carbon neutral. "To support Prince Harry's commitment to the environment, we ensured their flight was carbon neutral, by making the appropriate contribution to Carbon Footprint™," he tweeted at the time.
Given the Kardashian's immense wealth, they could easily follow suit.
Loving Animals vs. Animal Rights Activism
Even though many members of the Kardashian family are clearly animal lovers (matriarch Kris Jenner adopted a rescue pup in 2020) their stance when it comes to animal rights is shaky, at best.
For example, while Kim did replace her fur coats with vegan alternatives in 2019, she and her relatives still wear leather and purchase products made from animal skins and hides, like Kylie's Birkin bag collection and the alpaca and leather accents in Kendall's Los Angeles home.
In January 2020, Kylie took to her Instagram Stories to post about the death of animals in Australia's devastating fires. While the young billionaire should get credit for raising awareness about a tragic climate crisis, almost immediately after that post Kylie shared a snap of her mink Louis Vuitton slippers, and even her fans took note of the hypocrisy..
As one Twitter user succinctly put it: "I don't understand how Kylie Jenner can post about the poor animals dying in the Australian fires and then two snaps later post a picture of her wearing real mink fur shoes."
Overconsumption and the Kardashians
Overconsumption is another area in which the Kardashians can strive to do better.
Kim has repeatedly called out fast-fashion brands like Fashion Nova and encouraged them not to copy her looks for the masses without her consent, but the superstar simultaneously encourages overconsumption by frequently showing off her closet filled with designers duds. Her sisters often do the same thing too.
And let's not forget that Kim's SKIMS brand produces shapewear and loungewear in just about every material and color imaginable, clearly encouraging people to buy more and more. Since many consumers try to imitate what celebrities do and wear, the constant promotion of overconsumption from a figure like Kim can be especially damaging to the planet.
The fashion industry is a huge contributor to the climate change crisis. Per the BBC, fashion accounts for about 10 percent of global carbon emissions, and nearly 20 percent of wastewater. And while the environmental impact of flying is well known, fashion sucks up more energy than both aviation and shipping combined. Certain clothing items even have more of an impact than others.
For example, the UN estimates that a single pair of jeans requires a kilogram of cotton. Because cotton tends to be grown in dry environments, producing this kilo requires about 7,500–10,000 litres of water, which is about 10 years' worth of drinking water for one person.
The climate-related issues within the fashion industry are particularly heightened when talking about fast-fashion, which, as previously mentioned, is frequently fueled by the Kardashian's own style and penchant for showing off their looks. Additionally, fast-fashion isn't designed to last, and is often priced very reasonably so people keep purchasing more items.
10 Ways The Kardashians Have Made a True Impact on Sustainability
Though the Kardashian family doesn't have a spotless record when it comes to sustainability and the environment, they have raised awareness about many key issues and are striving to do better.
Keep reading for more information on how the Kardashians have made a positive impact on sustainability.
Kourtney Kardashian and Kim Kardashian Ditch Plastic Bottles
Kourtney was the first sister to say goodbye to plastic bottles. In February 2019, she took to her Instagram Stories to bid the harmful material adieu. "No more plastic water bottles allowed in my house," she declared at the time.
Instead, Kourtney shared a photo of some of her JUST water supply, which comes in plant-based cartons that are made almost entirely from paper. According to the company, which was co-founded by Jaden Smith, even the cap is made from sugarcane, meaning the bottle is completely recyclable and reusable.
Kim seemingly followed in her older sister's footsteps, and by December 2019, said she had "just gotten rid of all the plastic water bottles" in her home. Interestingly enough, the KKW Beauty founder made the switch after some eagle-eyed Keeping Up With the Kardashians viewers criticized Kourtney for drinking from a plastic bottle on the show.
And while Khloé Kardashian hasn't formally announced she's rid her house of plastics, the youngest Kardashian sister did take issue with Snapple's upcoming pivot from bottles made of glass to those made of recycled plastic.
"I absolutely love @Snapple but I just found out that they're changing their packaging and they're getting rid of their glass bottles," Khloé tweeted in February 2021. "I'm trying to get rid of single use plastic and move everything to glass/aluminum. So @Snapple is it True, no more glass?"
Though Snapple didn't reply directly to Khloé, the company announced in October 2020 that they would be transitioning to bottles made of 100 percent recycled plastic.
Kim Kardashian Replaces Her Fur Coats With Vegan Alternatives
Early on in her career, Kim was frequently photographed wearing fur. However, in May 2018, the California native revealed via Snapchat that faux fur was her "new thing."
Kim drove home the point even further about a year later, in June 2019, when she shared that she had commissioned fur-free versions of some of her favorite looks. "I took all of my fave furs and remade them in faux fur," she wrote on Instagram at the time.
Kim may have ditched fur thanks to encouragement from former Baywatch star and vegan activist Pamela Anderson's. In September 2017, Anderson published an open letter addressed to Kim in which she brought up the fur issue.
"I'm writing to ask you to extend your compassion to real fashion victims—the animals who are violently killed in the fur trade—by swearing off fur this winter," she explained.
Kim Kardashian Goes Vegan
In February 2021, Kim shared a trio of photos of herself wearing cargo pants and a revealing crop top that showed off her toned abs. "Plant based does a body good," she tweeted, referring to her current vegan diet.
Not surprisingly, the update seemingly encouraged at least a few of Kim's followers to follow suit. "I'm going plant based now," one Twitter user replied.
Another added: "She's really making me consider going plant-based like whoa."
Though it's obviously difficult to track how many people may have gone vegan or considered veganism because of Kim's post, it's great to see her promoting a diet that is good for the climate, animals and more. That one post, which Kim also shared on Instagram, reached more than a combined 279 million people.
Since then, the SKIMS founder has only become more invested in her plant-based lifestyle and has even gotten some of her immediate family members involved as well. In February 2020, Kim revealed that her three youngest children—Psalm, 22 months, Chicago, 3, Saint, 5—are also vegans, while her firstborn, 7-year-old daughter North, is a pescatarian.
Kourtney Kardashian Plants Trees With Climate Change Organizations
In November 2019, Kourtney made a point of teaching her three children—Mason, 11, Penelope,8, and Reign, 6—about taking care of the environment.
"We spent our morning planting trees with @treepeople_org," the Poosh founder shared on Instagram at the time, along with a series of photos of herself and her little ones doing their part. "Thank you @futureearth for including us in such a beautiful morning taking care of our ?."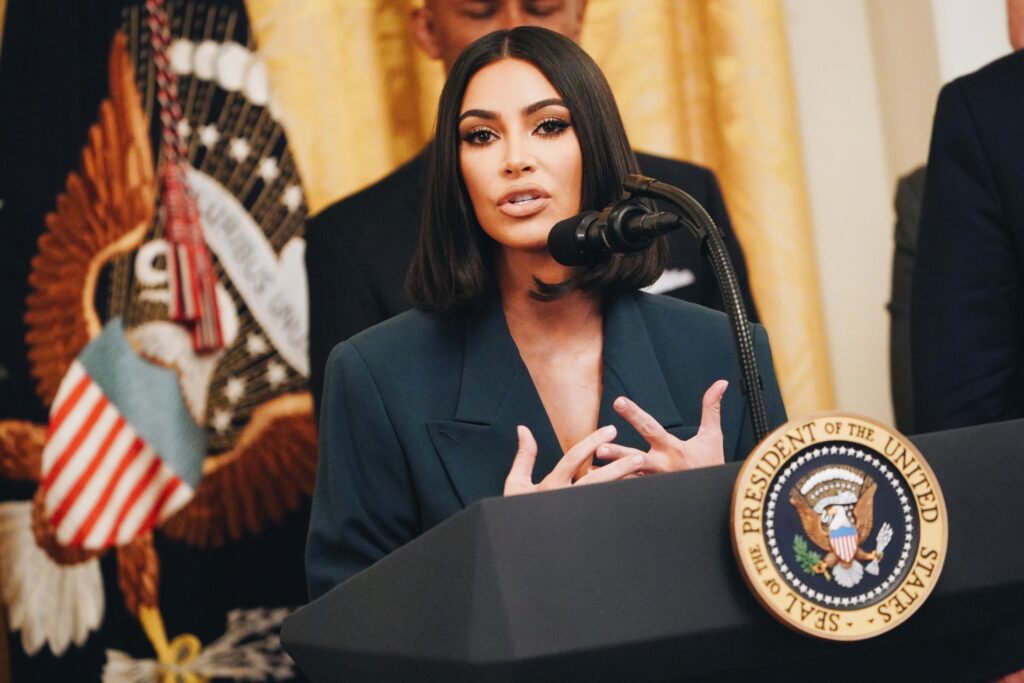 Kim Kardashian Advocates for Criminal Justice Reform
In addition to entertaining reality TV viewers and helming several brands, Kim, who is currently enrolled in law school, has become an avid supporter of criminal justice reform. In that vein, she has worked to free those imprisoned for decades whom she believes deserve second chances, gotten non-violent prisoner's sentences reduced, and has advocated for death row inmates' lives to be spared.
Environmental injustice manifests in multiple ways within the prison industrial complex. For example, prisons often are built on environmentally toxic sites, exposing incarcerated people to environmental hazards. According to EPA data gathered in 2017, "at least 589 federal and state prisons are located within three miles of a Superfund cleanup site […] with 134 of those prisons located within just one mile."
Additionally, the prison system often fails to comply with health and safety regulations, which can have a negative impact on incarcerated people as well as the communities and ecosystems around then. Since 2000, eight of California's state prisons have been cited for polluting waterways with sewage.
In using her platform to help free some prisoners and shed a light on criminal justice reform, Kim is doing her part to help dismantle the prison industrial complex.
Kourtney Kardashian Pushes for Healthier, More Sustainable School Lunches
As a mother of three, Kourtney wants what's best for her children, especially when it comes to their health and the health of the planet.
To that end, the Kourtney & Kim Take Miami alum opened up about her quest for more nutritious and sustainable lunches at her kids' California school in a July 2019 Poosh post. After seeing the subpar meals and snacks served at her kids' school, which included processed foods and produce that wasn't fresh or organic, Kourtney took a stand. "As moms, it's in our power to raise some awareness and rally for healthier options," she noted.
Kourtney added: "I wasn't satisfied with the food being served at my kids' school, so I made sure that the principal knew my concerns. And I've continued to offer my two cents on everything from the type of milk they serve to their use of single-use plastic."
Kourtney Kardashian Speaks to Congress About Cosmetics Safety Reform and Sustainability
In April 2018, Kourtney ventured to Washington, D.C. so she could address Congress regarding reforms to outdated federal cosmetics regulations.
She teamed up with the Environmental Working Group, a nonprofit that does research and advocacy focused on corporate accountability and sustainable materials, and the trip was chronicled on an episode of Keeping Up With the Kardashians that aired in November of that year.
Kourtney took a stand in support of the Personal Care Products Safety Act (which didn't pass) which outlined new health and safety standards for cosmetics and other personal care products. It would have allowed the Food & Drug Administration to regularly review the safety of various ingredients in these products.
"You shouldn't have to do all of the research when it comes to making sure your family's products are free of toxic ingredients," Kourtney wrote on Instagram at the time. "It's time to tell Congress to do its job, and pass new cosmetics legislation."
Kylie Jenner Launches a Vegan Skincare Line
In July 2019, the youngest member of the KarJenner clan, Kylie Jenner, launched a vegan skincare line called Kylie Skin. Prior to the launch, Kylie assured her fans in an Instagram post that all of the items in the line would be gluten-free, paraben-free, sulfate-free, and suitable for all skin types.
"Skincare and makeup go hand in hand and Kylie Skin was something I dreamt up soon after Kylie Cosmetics," Kylie wrote at the time. "I've been working on this for what feels like a lifetime so I can't believe I'm finally announcing!"
Kendall Jenner Debuts a Vegan Oral Care Brand
Shortly before the debut of younger sister Kylie Jenner's vegan skincare brand, Kendall launched her own vegan oral care company in April 2019 called Moon.
The brand sells a paraben-free teeth whitening pen. According to the Moon website, Jenner curated the natural ingredients—which include lavender oil, strawberry fruit extract, and honeysuckle flower extract—for the pen herself.
Additionally, Moon, which was founded by Shaun Neff, works with nonprofits such as Operation Smile, which helps children born with cleft lip and cleft palates around the world.
Kylie Jenner 'Trying to Not Eat Meat'
Jenner took to Instagram to tell her 223 million followers that she's "trying to not eat meat right now." She made the comments in an Instagram Story post, sharing a video of her dinner. The dinner appeared to include sweet potatoes, grains, and broccoli.
Although her older sister may have ditched fur, Jenner has been seen wearing animal-derived fur. She has also posted mink fur slippers on her Instagram Story.
But her decision to not eat meat may prove a step in the right direction of minimizing animal exploitation.
Kourtney's Poosh Lifestyle Website Often Promotes Plant-Based or Flexitarian Eating
Aside from a challenge with her sisters, Kourtney is not strictly vegan. However, she does stock her home with vegan cheese, and she uses her popular Poosh website to publish a variety of her favorite vegan, vegetarian, and flexitarian recipes.
For example, Poosh has published recipes for vegan tuna lettuce wraps, organic (non-vegan) coconut macaroons, and vegan ginger butternut squash soup.
Poosh also frequently shares recipes for some of Kim's favorite vegan foods, such as tacos and eggplant Parmesan. The recipes are courtesy of Kim's vegan chef, Marina Cunningham.