Mayim Bialik is a modern-day Renaissance personality. You may know her through her TV roles, whether as a Jeopardy! host, the irrepressibly spirited Blossom from the eponymous hit 90s TV show, as nerdy, lovable neurobiologist Amy from The Big Bang Theory, or through her recent star turn as a joyfully single woman on Call Me Kat. Or, you may know her as a real-life neuroscientist, author, and YouTuber who often chats about her vegan lifestyle.
But what you might not know from Bialik's online presence is that she's also a fabulous cook. Bialik even wrote a cookbook called Mayim's Vegan Table, boasting more than 100 delicious, plant-based recipes. Her recipes are often comforting, homey, and fulfilling, from zucchini pie to hot pretzel challah. Want to learn how to cook like Bialik? Here's how to get started with her uttery craveable recipes.
Make Mayim Bialik's cozy, delicious recipes
Chocolate truffle pie
This recipe is remarkable not only for its beautiful, decadent finished product, but also for its unique ingredients. To stay kosher for Passover, the recipe uses matzo cake meal, and is also vegan. Bialik added richness with almond meal, and recommends bittersweet chocolate. Her unique recipe for a DIY vegan egg replacer is our new fave. Just mix water, oil and baking powder for what she calls the "best cheap egg replacer." We agree!
Get the recipe here.
Vegan reuben sandwiches
It's obvious Bialik understands the height of cozy comfort food when you see her reuben recipe, which makes good use of an assortment of savory spices, tamari, vegan bacon, dill pickles, and rich vegan mayo. Make the recipe here.
Untraditional "millennial" latkes
Bialik knows her latkes. You might call them potato pancakes, but to her, they'll always be latkes. But Bialik doesn't just make a traditional latke. She also makes avocado toast latkes—yes, you heard us right. They're garnished with chives and "Everything But the Bagel" seasoning, to boot. Her second new-school latke is the Buffalo latke, topped with celery, Buffalo sauce, and ranch dressing. And her last latke, which she calls the wild beast latke, features vegan nacho cheese sauce, vegan Thousand Island dressing, and sauteed onions.
Grab that latke recipe here.
Sufganiyot (jelly donuts)
Deep-fried jelly donuts are for breakfast, lunch, and dinner. At least, according to us, and probably Bialik. Find the recipe here.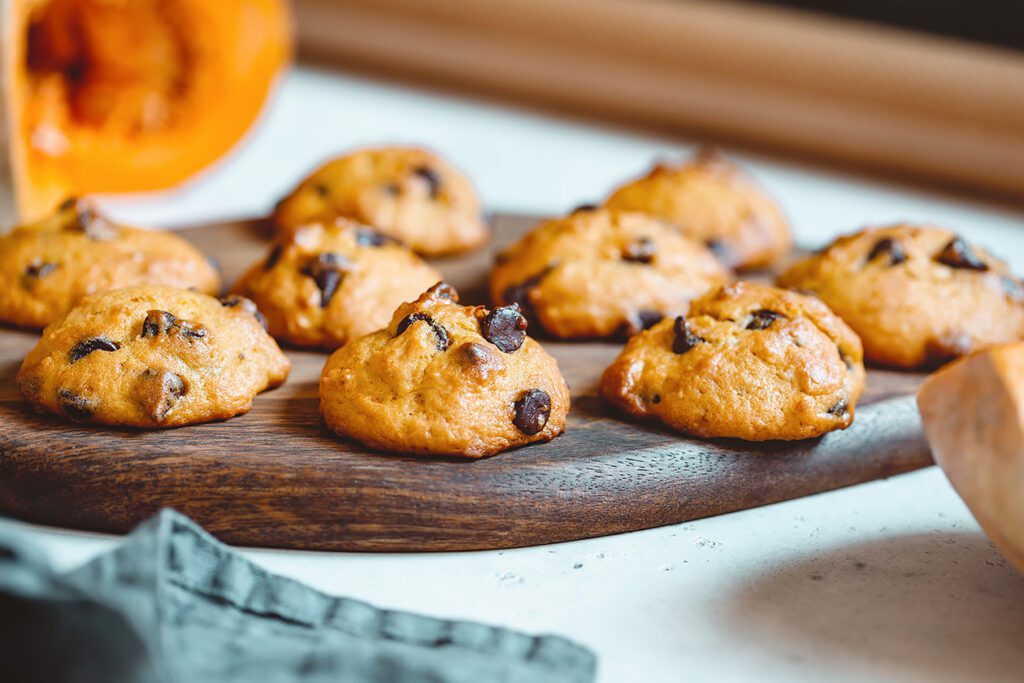 Chocolate chip pumpkin cookies
Pureed pumpkin makes these cookies extra soft and chewy. Whip up this cookie recipe here.
Daiya-style pizza
Mayim knows that nothing brings everyone to the table like a pizza, so she shared her vegan pizza recipe that uses cornmeal for a delectable crust. The key? Making your own crust from scratch with yeast and flour. Get rolling your dough with this recipe here.
Vegan mac and cheese
A good vegan mac and cheese is a thing to behold, but Bialik's is gluten-free, too. Her recipe makes use of gluten-free flour and gluten-free macaroni. Cook it here.
Mayim's zucchini pie
When summer rolls around and you have garden zucchini coming out of your ears, you'll be grateful for this easy recipe. Get cooking here.
Honey cake
Subbing in agave syrup makes a traditional honey cake deliciously vegan. Mayim. Cook the recipe here.
Baked ziti
If you miss traditional baked ziti, learning how to make it Bialik's way is super rewarding. The key is making your own herbed "ricotta" and cashew cream. So don that apron and get the recipe here.
Hamantaschen
Never experienced the pure delights of this triangulated magic? You need a hamantaschen immediately. This Purim delicacy is simple to make Bialik's way, with only a few ingredients—and it's easily customizable on top, with the jam of your choice. Make this recipe.
Hot pretzel challah
Challah is so rewarding to make, and it's comforting in more senses than one. Not only does devouring it give you the warmest feeling, but kneading the dough and braiding it is almost therapeutic. Make Bialik's hot pretzel challah here.