The temps have been well into the triple digits here in the San Fernando Valley (read: it's friggin hot). To help cool myself down and avoid melting into my hardwood floor (okay, okay … more so to satisfy my absurd sugar cravings), I decided to head on over to Trader Joe's for some more of those tasty little frozen dessert cones I wrote about following my last TJ's haul. (They. are. so. dang. good.)
Once inside what can only be best described as heaven's doors, I made a beeline over to the frozen goods aisle. After successfully fighting the urge to plant my sweaty head into bags of frozen veggies, I quickly found what I came for: icy-chocolate-coconut-goodness-on-a-stick. And as I picked up a box (read: four) my eyes spotted something else: vegan. meat-lover's. pizza.
But… that's not all I found. In non-food news: Trader Joe's yogi skeletons are back! And in food news: You're basically going to want to head over to your favorite budget-friendly market ASAP (as in like right now) because there's a lot. Keep reading to find out what's new at Trader Joe's for September 2021.
What's new at Trader Joe's September 2021
Vegan cookies, meatless stuffed roast, and more. (Trust us, you're going to be mind blown at number 6.) You are definitely going to need a bigger shopping cart this time. And, while I didn't spot them on this shopping haul, rumor has it TJ's will be launching quite a few vegan gems this month, including a Boursin vegan cheese spread and a variety of autumnal favorites. I'm talking pumpkin oat milk, almond nog, pumpkin bagels, and more. (Don't worry, I'll give you the lowdown on these seasonal products next month.) Here's what's new at Trader Joe's for September 2021.
Trader Joe's Organic Super Bread
My morning avo toast just got an upgrade. Soft on the inside, crunchy on the outside—Dave's Killer Bread just got some major competition. Ingredients include the likes of oat, wheat, rye, sunflower and pumpkin seeds, apple, carrots, and dried banana. I'll take two loaves, please.
Soft-Baked Sunflower Butter Cookies
I may or may not have devoured an entire box of these in one sitting. (Do serving sizes even mean anything anymore?) Featuring a number of tasty ingredients—sunflower seed butter, cane sugar, dates, roasted sunflower seeds—these soft-baked cookies were incredibly sweet. They're also gluten-free and don't contain palm oil.
Japchae Korean Sweet Potato Glass Noodles & Vegetable Stir Fry
Japchae is another popular dish in Korean cuisine. These sweet potato glass noodles feature soy sauce and a number of tasty veggies (spinach, onion, carrot, bell peppers). Commonly served as a side dish, this gluten-free product can also be served over rice.
Vegan Stuffed Roast
Vegan stuffed roast has entered the chat. Okay, so it's not Thanksgiving yet. But it's never too early to indulge in a little meat-free roast. This new product is apparently going to be stocked year-round. The plant-based roast features a savory vegetable stuffing. Top it with some gravy and serve with a side of your favorite seasonal veggies.
Tofu Scramble With Soy Chorizo
Okay, so I didn't love it. But I didn't hate it. I don't own a microwave (gasp) so I was very chagrined to see it would take 45 minutes to heat this bad boy up in the oven—hunger pangs are real. Alas, heat it up I did (my apartment is still cooling down). In addition to tofu and soy chorizo, the scramble features spinach, vegan cheddar shreds, peppers, onion, and a variety of seasonings. I threw it into a few small flour tortillas and topped with salsa and avocado. It definitely could have done with more seasoning. But still, 25 grams of protein per serving = breakfast of champs, and I wasn't hungry again for hours.
Greek Chickpeas with Parsley & Cumin
Level up your chickpea salads. Trader Joe's new Greek chickpeas are a deconstructed version of the classic Mediterranean dip hummus, according to the company. Containing everything but the tahini—garbanzo beans, soybean oil, parsley, salt, cumin, lemon juice, garlic powder, and pepper—you'll definitely want to toss these into your salad.
Vegan Meatless Meat Eater's Pizza
It's not delivery, it's Trader Joe's Vegan Meatless Meat Eater's Pizza. This plant-based pie is loaded with vegan pepperoni, Italian and chorizo sausage crumbles, and dairy-free mozzarella shreds. This wasn't the best frozen pizza I've ever tried (the cheese didn't really melt), but after loading it with extra veggies (red onion, olives, peppers), fresh basil, and some seasoning, it was A-okay. A solid 7/10, which is a better rating than most contestants on The Bachelorette, IMO.
Sweet Cinnamon Filled Korean Pancakes
Chewy-flaky dough and an ooey-gooey cinnamon filling? Need I say more? Although not available in all stores—yet—this new find definitely deserves a spot in your shopping cart. Also known as Hotteok, a type of filled Korean pancake, this delectable treat is a popular street food in South Korea. Thankfully, it's made its way stateside.
Pumpkin Overnight Oats
Rolled oats with pumpkin puree and a variety of autumnal spices like cinnamon and nutmeg? I think I just found my new favorite breakfast go-to. It's pumpkin pie in overnight oats form. You can keep your PSL; this is breakfast nirvana.
Organic Veggie Bites
These veggie bites are seriously addictive. They're packed with sunflower seeds and organic vegetables—celery, carrots, onions, kale, sweet potatoes, broccoli, and more. Dunk them in vegan ranch for a nutritious meal or snack.
Indian Style Garlic Achaar Sauce
Slather it on naan or serve it over a helping of vegetables. Featuring a red chili pepper and roasted garlic puree, dried red bell peppers, coconut sugar, and more—it's not as spicy as I would have thought.
Pumpkin Spice-Flavored Organic Creamy Cashew Culture Yogurt Alternative
Pumpkin spice fanatics' breakfasts just got pumpkin spicier. Throw in some granola and your taste buds will be pleasantly tantalized. Featuring a base of organic cashews, this dairy-free yogurt is sweetened with cane sugar and turned into a creamy cup of goodness thanks to coconut cream and tapioca starch. With the fall flavors of pumpkin purée, cinnamon, and nutmeg—you'll be savoring every. last. spoonful.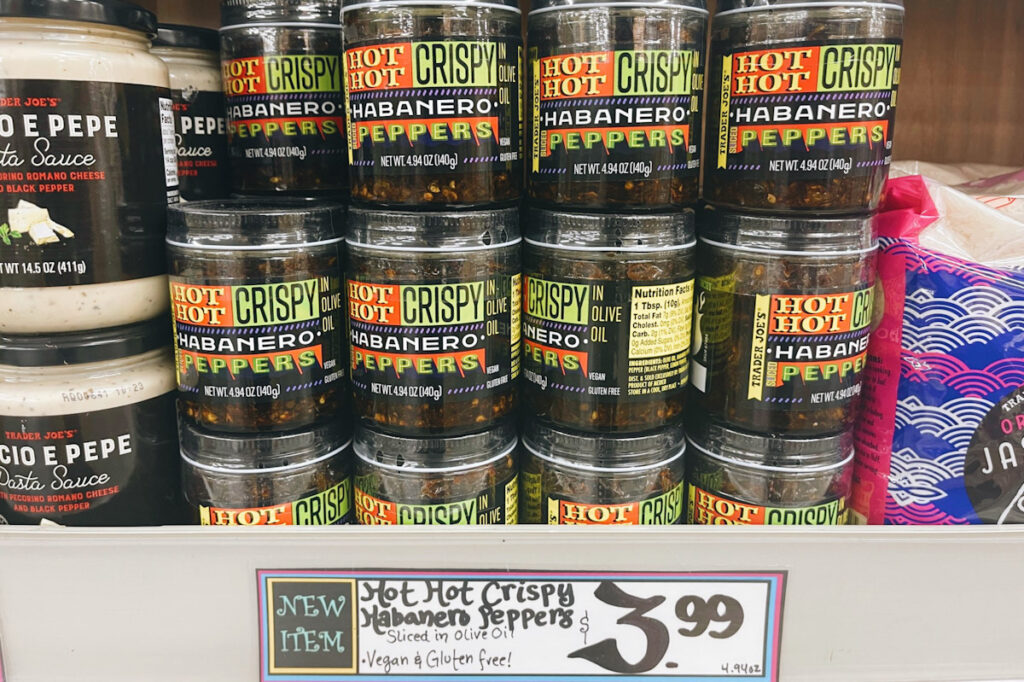 Hot Hot Crispy Habanero Peppers
They're backkkk. Okay, now these are hot—but they're flavorful too. In fact, habanero chilis are rated 100,000 to 350,000 on the Scoville scale. Consume them at your own risk.
GoMacro Macrobars Maple Sea Salt
It's like fall in edible bar form. Pumpkin seeds, maple sugar, sea salt…These vegan bars feature a number of tasty organic ingredients that scream autumn is almost here (don't let the hot weather fool you!).
Cameroon Boyo Arabica Coffee
Get caffeinated with a cup of TJ's newest coffee. The Arabica beans feature notes of chocolate, almond, and molasses and are sourced from Cameroon's Boyo region. *Turns on coffee machine.*
Papua New Guinea Simbai Coffee
Can't get enough small lot coffee? Brew up a cup of this medium roast, which features notes of sugarcane, cherry, and lime. Cheers to that.
Shredded Parmesan Cheese Alternative
All of your vegan cheese prayers have been answered. Dairy-free shredded parmesan cheese is now at TJ's. I may or may not have purchased three bags of which I may or may not have eaten straight out of the package. Don't judge me… These vegan shreds are made from coconut oil. Toss them onto pasta or melt atop a baked potato. The options are endless.

Can't get enough Trader Joe's? Check out our complete (yes, complete) guide to everything vegan at TJ', which you'll want to bookmark. You're welcome. Got a hot tip for a new vegan item spotted at a Trader Joe's near you? Send in your pics and store location to editorial@livekindly.com. Include Vegan Trader Joe's Finds in the subject line.