New Tesco plant-based products are coming.
According to a leaked letter, the largest supermarket in the UK could launch plant-based alternatives for every single meat product it stocks within four years.
Responding to allegations by Greenpeace that Brazilian meat company JBS — a key supplier for Asda, Sainsbury's, and Tesco — is funding South American deforestation, former Tesco CEO David Lewis wrote to Greenpeace to outline the company's commitment to meat and dairy reduction.
As reported by the Telegraph, Lewis indicated that offering plant-based options for every meat product sold by the store could help encourage customers to reduce their meat consumption.
"Like you, we realize the UK needs to reduce meat and dairy consumption," wrote Lewis. "Since 2018 we've been working with suppliers to drive plant-based innovation and choice, leading to increases in our plant-based meat alternative products."
According to Lewis, Tesco will achieve this by "[providing] plant-based proteins where a meat version is featured," as well as "through a range of pricing, promotion and placement decisions that we believe will lead to a reduction in meat consumption."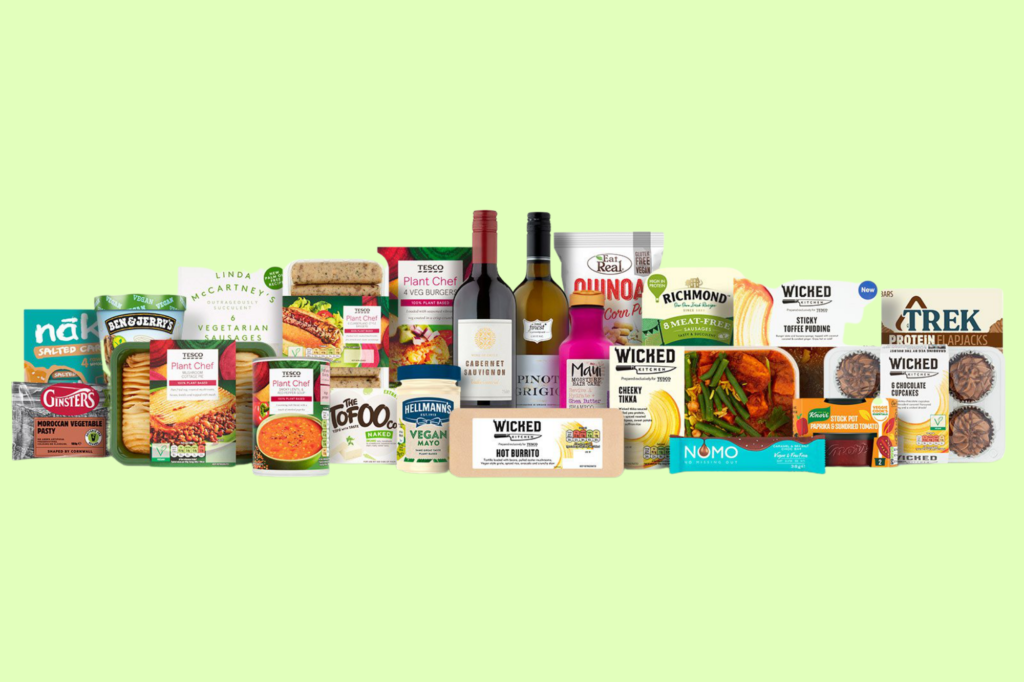 Rebalancing food production
Earlier this year, current Tesco CEO Ken Murphy referred to the letter and confirmed the supermarket's continued commitment to reducing meat consumption. In 2020, Tesco pledged to increase its sale of "meat alternatives" by 300 percent by 2025.
Tesco plans to increase the availability, affordability, and visibility of plant-based foods while working with suppliers to bring new innovations to customers.

Lewis also said that the company would "publish plant based protein sales as a percentage of protein sales from 2021." The supermarket is now working closely with the World Wildlife Fund (WWF) on sustainability efforts to halve the considerable environmental impact of food production.
"Tackling the environmental impact of what we eat and how we produce it has never been so urgent," said WWF CEO Tanya Steele. According to Steele, food production — and food waste, in particular — drives declining wildlife populations around the world.
While it might be "the biggest culprit," Steele believes that it also presents one of the greatest opportunities to reverse environmental damage. "Rebalancing our diets is a critical part of that," she added.
Tesco plant-based food
So far, Tesco has reduced the environmental impact of the average customer's shopping basket by 11 percent of its overall target. The WWF measures this progress by analyzing the impact of food production on climate change, deforestation, agriculture, food and packaging waste, and overall sustainability of diet.
Since 2018, Tesco has significantly increased the size of its plant-based range. In 2019, it followed up on its Wicked Kitchen line with the affordable Plant Chef brand, increasing Tesco's total plant-based products from 32 to 300.
Today, the supermarket stocks more than 400 lines of plant-based products, a 46 percent increase from 2019. According to Tesco, demand for chilled plant-based products, in particular, has increased by approximately 50 percent.
Tesco launched its biggest selection of vegan Christmas products to date at the end of 2020, and at the start of 2021 specifically promoted "sustainable swaps" to celebrate Veganuary — encouraging flexitarian and meat-eating consumers to try plant-based alternatives to their regular meals and ingredients.
A Tesco spokesperson told LIVEKINDLY: "Many of our customers are moving towards flexitarian diets for both health and environmental reasons, which is why we've committed to increasing the amount of plant-based meat alternatives we sell by 300% by 2025."

"We remain proud supporters of British farming, and we value our partnerships with UK growers who have always helped Tesco provide our customers with quality products. We continue to work to provide customers with healthy, sustainable, affordable food," they added.
If you want to know more about Tesco's plant-based products, read the complete LIVEKINDLY guide to vegan Tesco here.
Editor's note: This article has been updated to reflect a response and some additional information provided by a Tesco spokesperson.