Dishwashers, filtered coffee, car heaters, fire escapes, home security, windshield wipers; all of these things make our lives easier, more comfortable, safer. And all of them were invented by women. While the history books may be dominated by men and their creations, women have also consistently innovated to help propel society forward. Today is no exception. As the climate crisis looms, women are leading the way to a more sustainable future.

It's not always been easy. Turning innovation into a profitable business is already hard, but for women there are even more obstacles. It's no secret that the business world suffers from gender bias. Just two years ago, women-led startups received only 2.3 percent of all venture capital funding. Of the world's 500 biggest companies, 13 are run by women. But things are changing. From beauty to fashion to food, women are consistently carving new paths. They're mission-driven, and they're showing the world that we can make huge positive changes for people and the planet through innovation.
Women founders lead the indie beauty industry
The beauty space is a powerful example of how women are changing the status quo. While the big corporations are still largely run by men (although L'Oréal Paris got its first woman president in 2019), the indie sector is dominated by women. In the UK, a 2020 report found that in the indie beauty industry, more than 76 percent of businesses are led by women entrepreneurs. But they're not just leading. They're steering beauty towards a better future. Increasingly, the products we see from indie brands reject the gender binary framework of the past. They're also far more sustainable and diverse than the big giants. 

Take Jecca Blac, for example. Makeup artist Jessica Blackler founded the UK-based vegan cosmetics brand after spotting the lack of representation of trans and non-binary people in the beauty space. "Jessica quickly built up a client base of predominantly trans women and transfeminine people, and during these lessons she realized the oversight of the beauty world in not creating user friendly products which truly recognise the needs of all makeup wearers," explained Jecca Blac marketing manager Maxine Heron. "This included transfeminine makeup wearers first learning about makeup. She decided to launch Jecca Blac as a makeup retailer."

Across the pond, women founders are also paving the way towards a better beauty industry. Jazmin Alvarez was frustrated with the lack of regulation around the term "clean." She felt it needed to go beyond the elimination of toxic ingredients, and encompass sustainability and ethics too. So she created her own curated beauty platform Pretty Well Beauty, which is now home to more than 50 brands that meet her standards of what a clean beauty brand should look like.

An Afro-Latina, Alvarez is also keen to combat beauty's lack of racial inclusion. And she's not alone in her mission: Pholk Beauty and Kulfi Beauty are two examples of indie brands founded by women of color, who are working to create a fairer, more diverse, more sustainable, and more ethical industry. (You can read more about them here and here.)

Plastic-free brand Common Heir is yet another example of how women of color are changing the beauty industry. Founded by Asian American Cary Lin and Latinx American Angela Ubias, Common Heir offers luxury vitamin C capsules that biodegrade in hot water after use. It's a vital innovation, considering the beauty industry as a whole is responsible for producing 120 billion units of packaging every year. "Historically, women of color have not helmed luxury brands," says Ubias. "We want to upend people's expectations about inclusion and sustainability in luxury."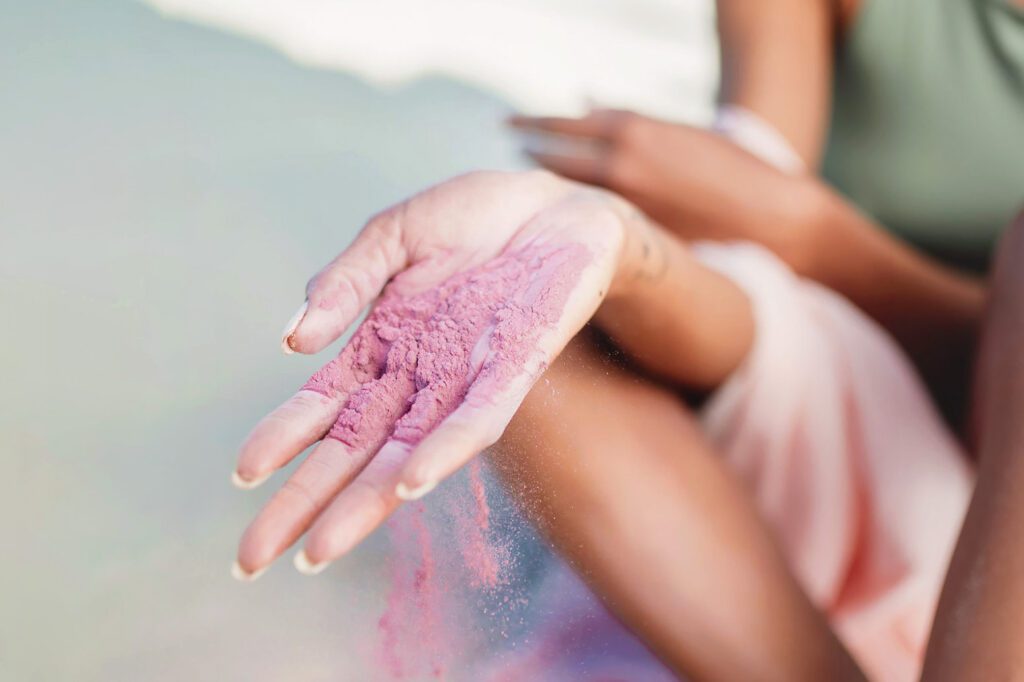 Women are changing the clothes we wear, too
Beauty and fashion go hand in hand. And like the former, the latter is changing thanks to women, too. But again, there's a glass ceiling to smash. Like beauty, the big fashion companies are predominantly led by men. According to the Business of Fashion, less than 50 percent of well-known womenswear brands are actually designed by women. 

The biggest problem fashion faces today is its environmental impact. It is responsible for up to 10 percent of global greenhouse gas emissions, and contributes regularly to a growing mountain of textile waste. (Every second, one garbage truck of textiles is dumped in the landfill or incinerated.) But again, just like beauty, many of the smaller brands innovating to improve the situation are run or founded by women. 
Algaeing is one example. Led by CEO Renana Krebs, the startup creates biodegradable fabric and dye using algae, a renewable resource that when farmed, actually pulls carbon dioxide out of the atmosphere. In New York, luxury brand Sylven, founded by Casey Dworkin, is making shoes out of bio-based apple leather, which utilizes organic apple pulp waste from Tyrol, a town in the Italian alps.

And also in New York, Stephanie Benedetto has founded Queen of Raw, a platform that buys leftover textile waste from the fashion industry and sells it onto design students and small brands. Benedetto founded the brand after spotting a gaping hole in the market. "There's a percentage of waste material that is actually fine for reuse," she says. "That's as well as the material that was ordered and never used, or excess sample yardage. But historically there has been no avenue to resell it."

OhSevenDays, another women-led startup, also finds a new purpose for old deadstock. Founded by Megan Mummery, the Turkey-based brand buys rejected or damaged materials from fabric mills and then creates new designs with it. Mummery is motivated by her love of fashion, but also a desire to do better for the future of the industry. "As a kid, I didn't know much about sustainability, and I bought fast fashion like the rest of us," she says. "But once you learn, you try to make up for it."
Women are transforming the food on our plates
When we're talking about industries with a huge environmental impact, we can't ignore meat. Animal agriculture is not only responsible for 14.5 percent of global greenhouse gas emissions, but it also wastes huge amounts of water. In fact, 23 percent of the US's water consumption goes toward cattle feed. The industry is also destroying rainforests. Beef, in particular, is the world's leading driver of deforestation.
Again, women-led brands are making a huge impact in this space. In South Africa, Tasneem Karodia is the co-founder of Mzansi Meat, a company striving to feed the African continent with protein grown in labs. Cultivating meat with cellular agriculture could cut the need for farming animals altogether. That's what motivates Karodia. "My main mission is to help solve the inefficiencies in the food system," she says. "To feed the next billion in Africa, with better meat."

Getting to this point has been tough for Karodia. As a woman working in science, she's had to jump more hurdles than her male counterparts to get to where she is. But she's hopeful that alongside others like her, she can pave an easier path for future generations of women in tech. "Women aren't taken as seriously as men, we have to work twice as hard to be recognised in most environments," she says. "But I think those that are in the space are really passionate about making a contribution. With the right passion and motivation we can see past these challenges and hopefully make it easier for other women that will move into this industry."

New Breed Meats is another example of a women-led company trying to shape a more sustainable future of food. The brand offers non-gmo, protein-packed plant-based products. But New Breeds Meats' environmental mission is intertwined with its social goals. Co-founder Samantha Edwards is passionate about improving education and access to nutritious food. Because, in the US, millions of people live in places where access to fresh healthy food is limited, the majority of them people of color. And according to 2018 research from Stanford University, the problem isn't just distance, it's a lack of food education too.

New Breed Meats hosts health education programs, nutrition enrichment workshops, and healthy lifestyle residential retreats, and 10 percent of its profits goes to their overarching mission. "For too long minorities have needlessly suffered for lack of education on what constitutes health and have been burdened with many lifestyle diseases as a result," Edwards says. "We want to open these conversations and offer real solutions."
Supporting mission-focused, women-led companies
From beauty to fashion to food, women are changing the way we consume for the better. And as shown in every example given here, they're not just motivated by profit, but by purpose and passion too. Each brand has a mission, a drive to scale that is rooted in doing good.

Women have come so far in so many industries, but they still need support. And again, women are leading the way in giving their peers a leg up. Jennifer Stojkovic is the founder of Vegan Women's Summit, an events and media organization focused on supporting women in sustainable business. Every year in Los Angeles, the organization passes the mic to women at its annual event. It hosts speakers from a variety of businesses, who specialize in everything from sustainable fashion to plant-based meat to cellular agriculture.

This year, actor and vegan activist Alicia Silverstone will give the keynote speech. She will be supported by a long list of influential speakers in the sustainability space, including Deborah Torres, the founder of the  award-winning vegan fried chicken brand Atlas Monroe, bestselling cookbook author and influencer Joanne Molinaro, and Maggie Baird, the founder of Support + Feed, a plant-based nonprofit tackling food insecurity.

But the impact of the Vegan Women's Summit isn't limited to one day. With its pitch competition Pathfinder, the organization consistently helps women founders access resources, connections, and funding. The overall aim is to help them expand their networking ecosystems and, ultimately, grow their world-changing businesses. So far, it has helped more than 1,000 women founders in 31 countries.
"This is the existential crisis of our lifetime," says Stojkovic. "We know that we have about 10 years to get this right before we reach the point of no return. Quite simply, the longer we leave the talent and skills of women on the table, the longer we leave animals on the table. We know that there are tremendous solutions on the horizon."  She adds: "I tell women all the time, there is still a place for you among the giants. The ship hasn't sailed here. We have the opportunity for this to be a women led industry."
There is no doubt, if we can utilize the talent, intuition, and passion of women to grow sustainable businesses, as a consequence, we can change the future of the planet for the better. Find out more about the Vegan Women's Summit here. This year's event will take place on Friday April 8.