The season of the pumpkins is upon us! And what better way to pay homage to the almighty gourd than a trip over to Trader Joe's? After all, with their plethora of vegan autumnal goodies, they're certainly pumpkin spicing things up this year.
I was particularly excited about this shopping excursion. (Yes, for the pumpkin spice everything. Also, I'd run out of wine…) My adorable, eight-year-old rescue pooch, Gullah, was also thrilled because I'd promised her I'd be returning home with a box of the chain's seasonal Pumpkin Recipe Dog Treats. (They're totes vegan-friendly! And also very dog slobber-inducing…)
The gawking of people as I entered the store was a solemn reminder that I was still in my WFH attire. (Read: I was dressed in a tie-dye onesie and fuzzy zebra print house slippers.) Oh, the joys of living right. next. door. to. TJ's. Hey, at least I brushed my hair. You're welcome.
Five minutes later and my shopping cart was filled to the brim. I grabbed a few boxes of the vegan meatless meat lover's pizza I wrote about last month, two (five) bottles of wine, and the dog treats—which actually smell amazing, btw. I also discovered a goldmine of new plant-based products. I'm talking hearty vegan chili, dairy-free cheese spread, and pumpkin rolls. Seriously, TJ's … HOW DO YOU DO IT?! Prepare to be mind blown.
What's new at Trader Joe's October 2021
Ready for that TJ's new new? Get your shopping carts ready. Here's what's new at Trader Joe's for October 2021.
Maple Almonds
Simple, sweet, and crunchy. These dry-roasted almonds are caked in maple seasoning and maple sugar for a delectable treat anytime of day.
Vegan Feta Cheese Alternative Block in Brine
Your Greek salads just got a major upgrade. The potato starch- and coconut oil-based cheese block is an apparent dead ringer for Violife's feta cheese. I'll take two, please.
Spicy Jollof Seasoned Rice Mix
Jollof rice is a West African dish that typically features long-grain rice, onions, tomatoes, meat, and a variety of spices. This vegan version contains all the good stuff—dried tomatoes, onions, red pepper flakes, and garlic—minus the meat. This spicy Jollof seasoned rice makes dinner a breeze and extra tasty.
Kale & Cauliflower Chili with Navy Beans
Trust me, your tastebuds will be over the moon about this vegan chili. It's loaded with savory veggies like kale, white navy beans, and riced cauliflower and packed with diced tomatoes, tomato and garlic purée, and onion. Is your stomach grumbling yet? The flavor extravaganza doesn't stop there. It contains an array of spices, including black pepper, cayenne, paprika, cumin, and cinnamon, as well as hatch chile powder and jalapeño purée for a spicy kick. I served it with Trader Joe's Organic Stone Ground Blue Corn Tortilla Chips. Chef's kiss.
Kimchi & Tofu Soup
Authentic kimchi flavor in stew form—sign me up! Mildly spicy, it's loaded with savory veggies, including napa cabbage, shiitake mushrooms, red peppers, radishes, onions, and garlic. It also features tofu chunks, black rice all mixed into a tasty broth, rice wine, gochujang sauce, and tamari soy sauce.
Spooky Bats & Cats Sour Gummy Candies
I almost passed these candies up thinking they couldn't possibly be vegan-friendly. Well, good news: These ghoulish bat and cat sour gummies are gelatin-free! They're also gluten-free. Since they're here just in time for Halloween, make sure you grab more than one bag of these sweet and tangy treats.
Boursin Dairy-Free Garlic & Herbs Spread
This is not a drill: Trader Joe's has Boursin dairy-free spread now! Bursting with flavor, it has parsley, garlic, and chives all blended into organic coconut oil. This vegan cheese spread is perfect for crackers and bread—it's totally charcuterie board-approved.
Hearts of Palm Pasta
A returning fave, the options are endless with this hearts of palm pasta. Whip up an Asian-inspired pad thai or a classic Italian marinara. You can even use it to make a bowl of chickenless noodle soup!
Vegan Shepherd's Pie
This is not a drill: TJ's now has vegan shepherd's pie. A personal fave of mine, this vegan version features green lentils, mushrooms, butternut squash, and kale in gravy. All of this plant-based goodness is topped with a mashed cauliflower and potato topping. *Stomach grumbles.*
New at Trader Joe's October 2021: Pumpkin-flavored everything
Now for the extra good stuff. Some brand spanking new … some returning favorites—all equally delicious. Let the pumpkin palooza commence. (Even your dogs can indulge!)
Pumpkin Recipe Dog Treats
I had to put these at the top of the list because, hello … #(wo)mansbestfriend. Featuring vegan-friendly ingredients like pumpkin, ground cinnamon, and rosemary extract, my dog goes absolutely nuts over these. So much so that I decided to give them a try. As I mentioned previously, they smell delicious—extra cinnamon-y. Unfortunately, the human taste buds did not approve (they're bland and very hard!). They're all yours, Fido.
Pumpkin Spice Coffee
Starbucks who? Whip up your own PSL at home with this seasonal fave, which features classic autumnal seasonings of allspice, cinnamon, nutmeg, ginger, and—of course—a whole lotta pumpkin spice.
Pumpkin Flavored Joe-Joe's
It's like if pumpkins and Oreos had a baby. A returning seasonal fave, these pumpkin-flavored sandwich cookies are sooo apropos for fall. Granted, they're high in sugar, but perfect for seasonal dessert splurging.
Spicy Pumpkin Simmer Sauce
Fun fact: I've never tried curry. (I know … gasp!) And while I didn't snag a jar of this pumpkin purée and coconut cream sauce, I must say, the ingredients—red jalapeño purée, garlic purée, and spices like ginger, cumin, turmeric, and coriander—did look appealing. I'll add this product to my list of must-tries.
Pumpkin Tortilla Chips
Made with real pumpkin purée and seeds, these tortilla chips are fall-approved. Sweet with a hint of cinnamon and nutmeg, I may or may not have eaten half a bag of these in one sitting.
Pumpkin Bagels
While the gluten-free version isn't vegan, the regular pumpkin bagels are. Praise the gourds! Featuring pumpkin pie spice and pumpkin flour, slather on TJ's new vegan cream cheese for a breakfast to remember.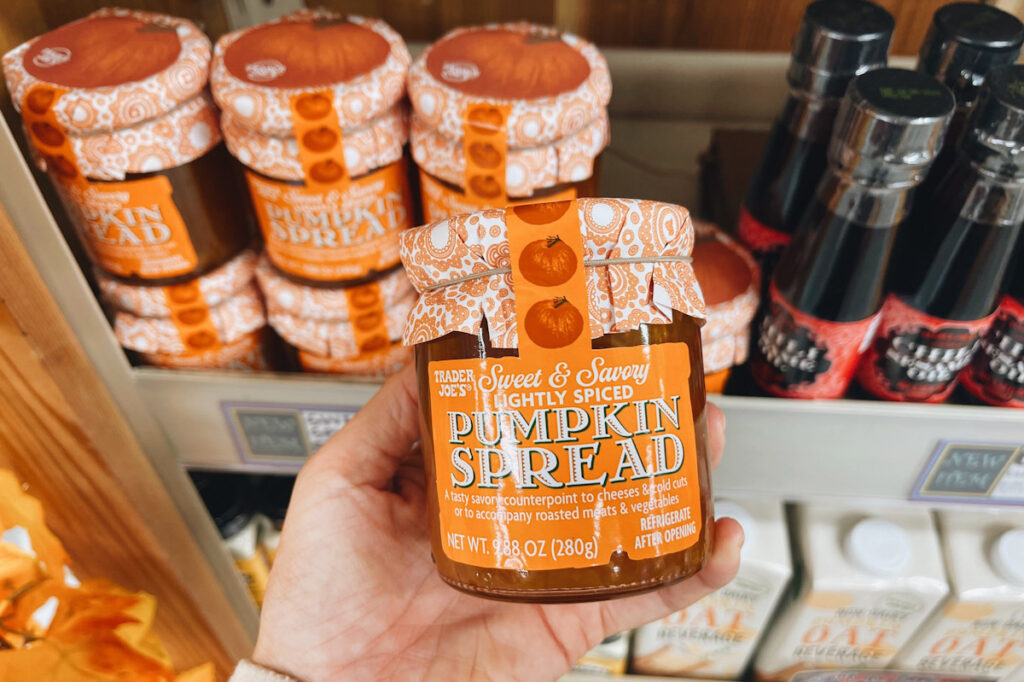 Sweet and Savory Lightly Spiced Pumpkin Spread
Featuring only five ingredients—pumpkin, cane sugar, fruit pectin, lemon juice, and ground cinnamon—you'll want to slather this pumpkin spread on just about anything.
Pumpkin O's
They're like Cheerios, but add pumpkin. This toasted whole grain cereal features brown rice, oats, and pumpkin. Top with your fave fresh fruit—extra bananas please!—and dig in.
Non-Dairy Pumpkin Oat Beverage
I actually poured a cup of this creamy bad boy the second I got home. I'm not the biggest fan of oat-based beverages, so I was a tad bit apprehensive. But the pumpkin oat beverage was surprisingly tasty. It was a bit watery, but this was easily forgotten thanks to its delicious fall flavors, made possible by ingredients like pumpkin purée, natural pumpkin-spice flavor, sea salt, and cane sugar.
Pecan Pumpkin Instant Oatmeal
TJ's knows how to elevate your breakfast game. As if the chain's pumpkin overnight oats weren't enough, it just launched this fall-worthy instant oatmeal, which features whole-grain oats, pecans, and all that pumpkin flavor.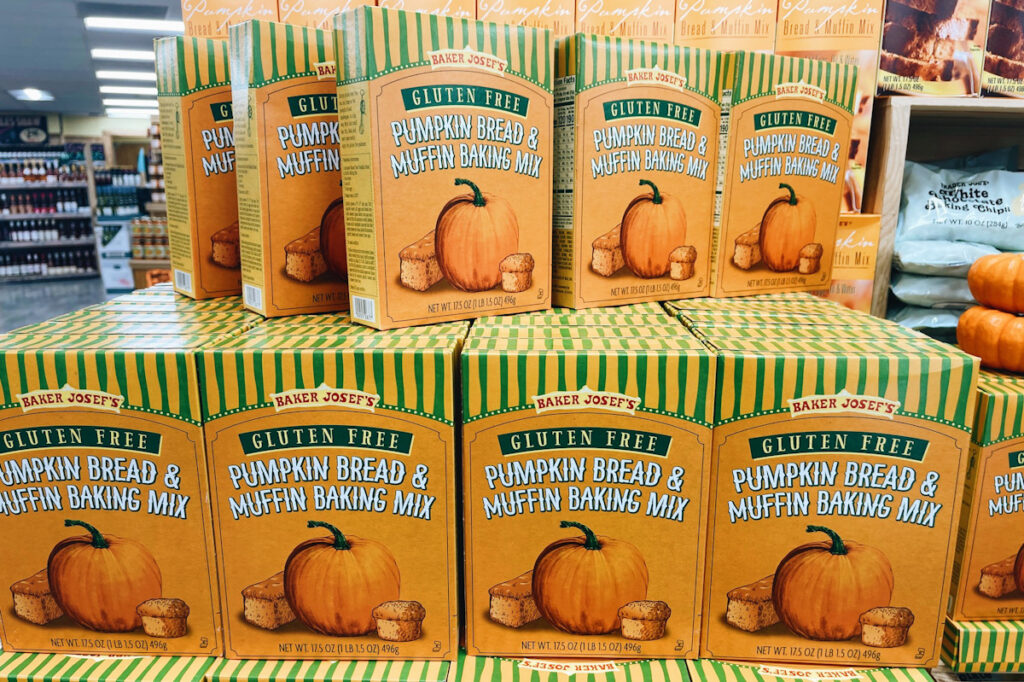 Gluten-Free Pumpkin Bread & Muffin Baking Mix
I was very happy to see a box of this baking mix on the shelf because I've been trying to slowly nix gluten from my diet (bloat, be gone!). Similar to the aforementioned version, you just need to add in an egg replacer, water, and oil. Granted, I'm not the best baker (I once set my oven on fire…), but for this gluten-free box of goodness … I'll give it a shot.
Pumpkin Rolls
That's right, they're vegan-friendly. These ready-to-bake pumpkin rolls are a seasonal staple. Pop them in the oven, top them with icing, and they're ready to enjoy. Sharing is optional.
Pumpkin Bread & Muffin Mix
Get baking with this pumpkin bread and muffin mix. Simply add in an egg replacer, oil, and water, and you're ready to go.
Pumpkin Spice Hummus
This hummus is basically pumpkin pie filling but with vine-dried chickpeas. In lieu of tahini, this autumnal hummus features, you guessed it, pumpkin purée.

Can't get enough of all of the new vegan products at Trader Joe's for October 2021? Check out our complete (yes, complete) guide to everything vegan at TJ', which you'll want to bookmark. You're welcome. Got a hot tip for a new vegan item spotted at a Trader Joe's near you? Send in your pics and store location to editorial@livekindly.com. Include Vegan Trader Joe's Finds in the subject line.