Aldi has always been known for its competitive prices, but now it's also becoming popular for its growing range of plant-based food and drink. From burgers and meat to snacks and desserts, this is LIVEKINDLY's complete vegan guide to Aldi.
Does Aldi Have Vegan Food?
Vegan food is increasingly sought-after by shoppers, and supermarkets of all kinds are expanding their plant-based ranges to meet this demand. Aldi is no exception, and the budget German chain now offers a wide (and still growing) selection of meat-free products.
Aldi stores in mainland Europe have stocked plant-based food for years, and German Aldi was even named as the "Most Vegan-friendly Discounter" of 2019 by the Albert Schweitzer Foundation. Aldi China has even added Omnipork's vegan spam.
In the UK, where Aldi has been the fifth most popular retailer since 2017, the supermarket has also been expanding its vegan selection.
Just last year it was awarded the Top Grocer 2020 award by PETA for its clearly labelled Plant Menu range, in addition to its many popular "accidentally" vegan products—Choco Pillows, anyone?
The chain first showed its public support for plant-based food in the UK by launching a Veganuary 2019 ad campaign. The commercial depicted a family going meat-free for the month of January, and emphasized the health benefits and affordability of Aldi's veggie food—directly challenging the preconception that veganism involves spending a fortune in exclusive health food shops.
Aldi launched a particularly impressive Christmas range at the end of 2020, followed by additional products and recipes to celebrate Veganuary 2021.
Aldi and affordable vegan food
The budget supermarket was founded around 75 years ago in 1946 by two brothers, Theo and Karl Albrecht. Its name is a syllabic abbreviation for Albrecht Diskont, a combination of the founders' shared surname and the German word for discount.
Today, Aldi has 6,520 stores across 11 countries, and employs more than 155,000 people. As a company firmly guided by market needs, the supermarket continues to show awareness of trending products and lifestyles, including the need for more affordable plant-based food.
More people than ever before are eating plant-based food, from strict vegans to meat eaters. Up to 91 percent of Brits (as per a report by competitor Sainsbury's) are attempting to cut back on animal products, and flexitarians have become the primary drivers of the plant-based boom.
But many shoppers also report concerns about the affordability of vegan food. Fortunately, private label ranges such as Aldi's Plant Menu (along with Tesco's Plant Chef, Asda Plant Based, and Sainsbury's Love Your Veg) are making it easier than ever to eat more vegan food on a budget.

Just this month, Aldi UK introduced several new budget-friendly Plant Menu products, including Vegan Rolls (Sausage, Sheese and Onion, and BBQ), each costing just 99p. It also introduced No Chicken Nuggets and Fishless Fingers (£1.49), as well as a No Chicken Masala ready meal (£1.99).
And despite vegan food's expensive reputation, Brits saved a huge £6.7 billion in 2019 by eating less animal products.
The Complete Vegan Guide to Aldi
On Aldi's UK website, there is a designated Online Vegan Guide vegan list, with 17 pages detailing all own-brand plant-based products, from meaty burgers to fresh vegetables.
While some of the items on the list are a little self-explanatory, this comprehensive guide is a useful way to ensure your shopping is free from (or low in) animal products. Here are some of our favorite vegan products stocked by the supermarket.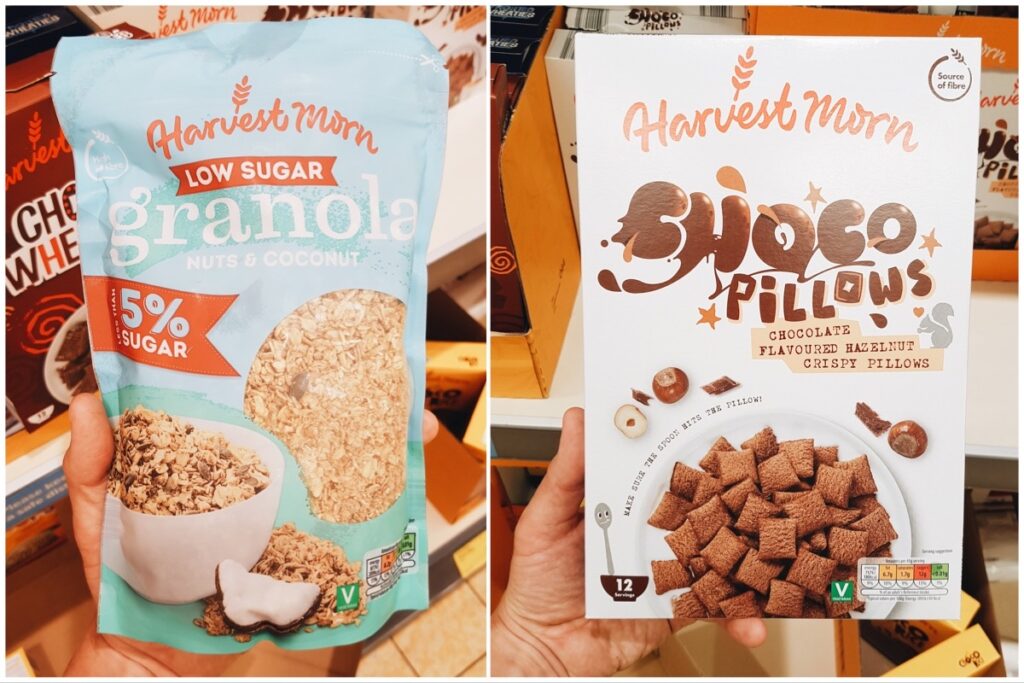 Breakfast Cereals
Cereal is enjoyed by adults and children alike, especially when there are stickers to collect. Occasionally Vitamin D is derived from sheep's wool, which means that some fortified cereals (such as Kellog's corn flakes) are not suitable for vegans.

Fortunately, Aldi's own-brand Harvest Morn has several vegan-friendly options.
Harvest Morn Cherry Fruit Wheats
Harvest Morn Crisp Cereal Maple Syrup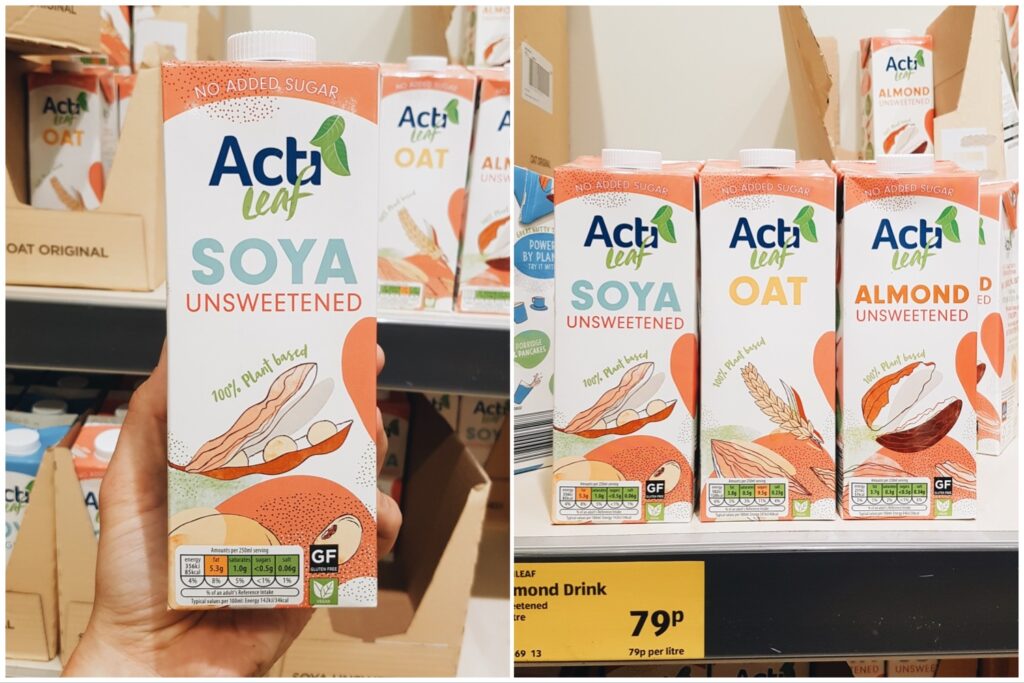 Vegan Milk
Aldi UK stocks Acti Leaf "milk alternative," which comes in a variety of flavors, while Aldi U.S. stocks Friendly Farms. American customers can even buy non-dairy creamer!
Acti Leaf Soya Milk (sweetened or unsweetened)
Acti Leaf Almond Milk (sweetened or unsweetened)
Friendly Farms Soya
Friendly Farms Almond
Friendly Farms Rice Milk
Friendly Farms Non-Dairy Creamer Almond Milk (vanilla or caramel)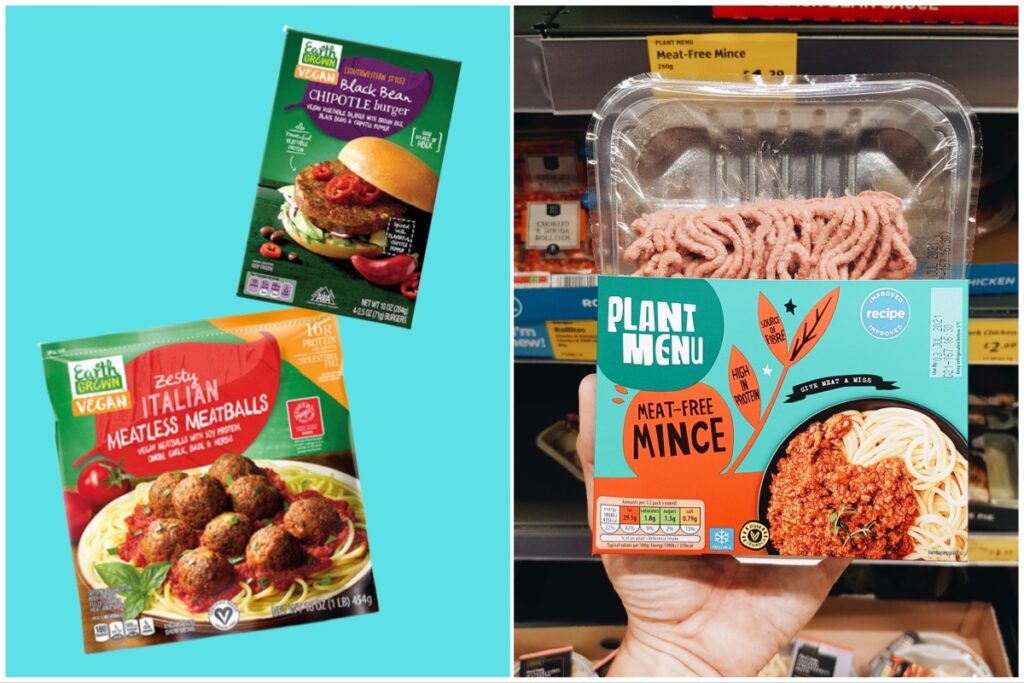 Vegan Meat
The vegan meat industry will be worth an estimated $8.3 billion by 2025 according to MarketsandMarkets. Global companies such as Beyond Meat and Impossible Foods have successfully made plant-based products more mainstream—and are also working towards lower prices—but UK supermarkets are catching up.
Aldi regularly stocks its own meatless ranges (now available under the Plant Menu private label) in addition to occasional branded options such as Quorn (usually its vegetarian products, not vegan). In the US, Aldi has an even more extensive plant-based range called Earth Grown which includes vegan dairy products and some snacks, too.
Plant Menu No Chicken Burgers (and Brioche Buns to match)
Earth Grown Jumbo Hot Dogs
Earth Grown Meatless Meatballs
Earth Grown Chickenless Tenders
Earth Grown Chickenless Patties
Earth Grown Asian Veggie Burger (made with brown rice and water chestnuts)
Earth Grown Thai Veggie Burger (vegetable patty with brown rice and lemongrass)
Earth Grown Black Bean Chipotle Burger
Earth Grown Veggie Burger
Earth Grown Kale Veggie Burger
Earth Grown Quinoa Crunch
Dairy Free Ice Cream, Desserts, and Dairy
Aldi is aware that plant-based eaters cannot live on burgers alone, and both UK (Gianni's Dairy Free) and U.S. (Earth Grown) ranges also include some vegan dairy and dessert options.
Earth Grown Vegan Mozzarella Style Shreds
Earth Grown Cream Cheese Style Spread
Earth Grown Salad Dressings, (vegan Caesar, Ranch and Harissa)
Earth Grown Ice Cream, or "non-dairy frozen dessert" (vanilla, chocolate, mocha fudge)
Earth Grown Vegan Chocolate Cake
Ready Meals
Aldi UK now has an extensive vegan ready meal range, including several pizzas (topped with plant-based meat, veg, and cheese).
Inspired Cuisine Butternut, Lentil & Spinach Hotpot
Inspired Cuisine Indian Dhal With Spinach, Cauliflower & Carrot
Inspired Cuisine Indonesian Style Vegetable Curry (with red and brown rice)
Inspired Cuisine Rainbow Vegetable Stew
Soupreme Minestrone Soup (with pulses and pasta)
Specially Selected Lentil And Tomato Soup
Chilled Vegan Products
From side-dishes to sandwich patties, Aldi UK has a stellar range of plant-based goods.
These include:
Hummus (regular, low fat, Morroccan, Caramelized Onion)
Specially Selected Thai Bites
Deli Tomato & Basil Pasta Salad
Inspired Cuisine Onion Bhajis
Classic Cuisine Paprika Chilled Potatoes
Inspired Cuisine Vegetable Samosas
Giant Couscous & Vegetable
Golden Vegetable Microwave Rice
Deli Beetroot Burger
Vegan Snacks (and Sweets)
As well as its range of nuts and seeds, Aldi UK also offers the following items to keep you pulling on through the day.
Eat & Go Carrots & Hummus Twinpot
Eat & Go Edamame Bean & Sugar Snap Protein
Eat & Go Glorious Greens Protein Pot
Foodie Market Oh So Delish Crunchy Protein
Foodie Market Oh So Delish Thai Sriracha
Foodie Market Oh So Delish Vegetable Protein
Foodie Market Macadamia and Coconut Paleo Bars
Foodie Market Cashew Crush Bars
Deli Lentil Snacks, in tangy tomato or barbecue flavor
King's Veggie Jerky, in either eastern BBQ or black bean sauce flavor
Monster Munch-style Veggie Puffs (Pickled Onion and Roast Beef)
Leo the Lion sweets (gelatine free)
Juicy Strawberry sweets
Sour Watermelon sweets
Vegan Chocolate
There is always a time and place for chocolate. In the UK the supermarket's offerings get more extensive during festive seasons such as Christmas with vegan marzipan hearts and dark chocolate mints. However, the items below are all available right now.
Moser Roth Ginger Chocolate
Moser Roth Sea Salt Chocolate
Moser Roth Orange Chocolate
Dairyfine Dark Chocolate
Dairyfine Mint Creme
Ritter Sport Marzipan Bars
Other Vegan Products
Since 2018, all of Aldi's own brand toiletries and cleaning products have been certified cruelty-free. As Aldi UK's Managing Director of Corporate Responsibility, Oliver King notes on Aldi's website:
"This is hugely important to us and our customers. It makes cruelty free certified products more accessible and affordable."
While all of Aldi's own brand products are non-animal tested, some contain animal products such as beeswax, making them not vegan. Aldi's vegan non-food item list includes:
For more information on how to be cruelty-free on a budget, watch LIVEKINDLY's video here. Or, to learn more about how Aldi is reducing its environmental footprint, click here. LIVEKINDLY's guide to cruelty-free cleaning products is available here.
---
LIVEKINDLY is here to help you navigate the growing marketplace of sustainable products that promote a kinder planet. All of our selections are curated by the editorial team. If you buy something we link to on our site, LIVEKINDLY may earn a commission.