Plant-based food has evolved beyond the dry veggie burgers of yesterday (respect to the trailblazers). Now, instead of just one or two options hidden away in the back corner of the store, we have meaty burgers from a multitude of brands. Pints upon pints of dairy-free ice cream, and 15+ plant-based milk options to choose from. (What a future we live in.) Sometimes it's hard to know what to add to your shopping cart. Worry not—we've got you. Here are our picks for the very best vegan substitutes in every category.
With so many options, milk is probably the easiest thing in your fridge to replace with a plant-based version. Almond, soy, coconut, oat, hemp, AI-generated milk, and even potatoes… The list goes on. (Yes, we're curious about potato milk, too.) If you're totally new, don't be afraid to try a bunch of dairy-free milks until you find one worthy of your morning joe. We recommend oat milk, which is not only sustainable, but also a favorite of baristas.
Cheese these days doesn't have to come from cows (or goats, sheep, and buffalo, for that matter). These dairy-free cheeses span slices, shreds, and even aged wheels made using traditional techniques that pair beautifully with wine and crackers.
Whether you like a pat of butter on your morning toast or you're a baker, there's dairy-free butter for you. In fact, vegan butter is so mainstream now that even brands like Country Crock and I Can't Believe It's Not Butter have plant-based versions.
Quintessential to weekend brunch, eggs grace our plates in the form of scrambles, quiches, omelets, frittatas, stratas. If you want to recreate your fave breakfast classics, then give these vegan eggs a try. Some of them can even be used for dishes like French toast and pancakes.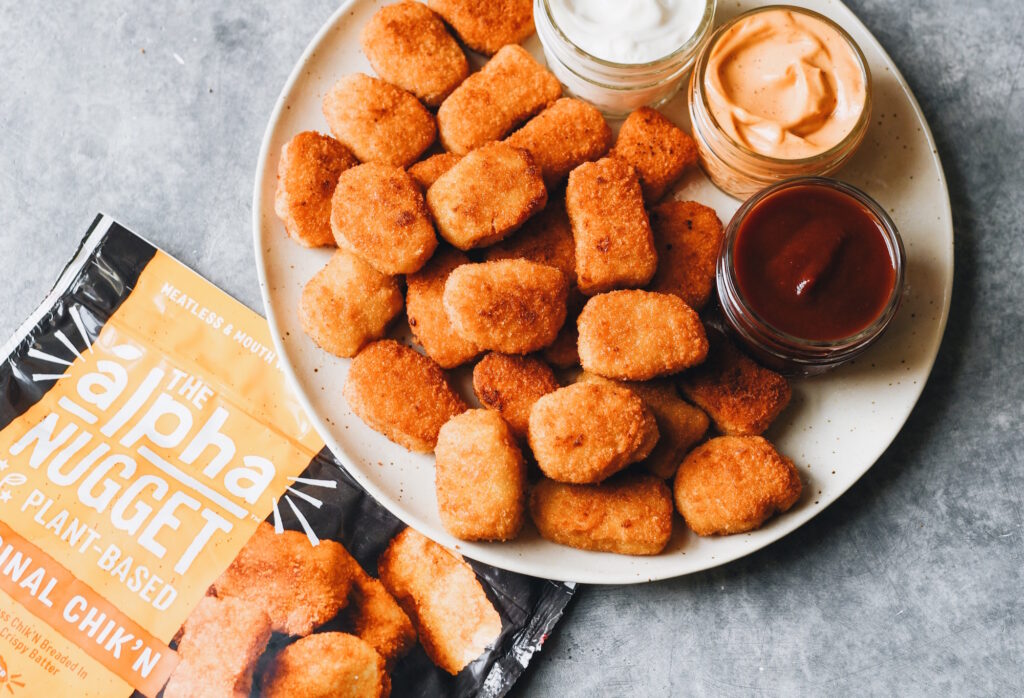 A hero of easy dinners (or lunch, or breakfast…we're all for total meal anarchy), chicken nuggets are beloved by many. Thankfully, there are so many vegan options out there now. Pass the ketchup, please.
Whether you're looking for juicy, meat-free burgers that sizzle like beef or you're team veggie burger, there's a vegan patty for every palate. The real question is, pickles or no pickles?
You need something to go with that egg-free scramble. How about a few slices of meat-free bacon? We see a vegan bacon, egg, and cheese sandwich happening in your near future.
Ever since the documentary Seaspiracy hit Netflix, seafood—and its impact on the planet—has become a hot topic. Luckily, vegan seafood aplenty is hitting the supermarket freezer aisle, and we named our favorite picks.
Savory food shouldn't get all the spotlight. Sweet substitutes' place on this list is well-deserved. Our team knows a thing or two about scoping out the best vegan ice cream. But if dairy-free options are woefully absent from your local scoop shop (sorbet is not a good substitute for ice cream and this is the hill we will die on), check your supermarket for these stellar vegan pints.
Missing Snickers, Kit Kats, Milky Ways, and all those classic candy bars? Worry not. There's a vegan version of practically every bar that used to tempt us with their glossy packaging and sweet promises at the supermarket checkout.