Vegan celebrities have been a part of Hollywood for decades. But plant-based eating among the stars is certainly having a moment now, as an increasing number of A-listers are experimenting with plant-based eating and adopting fully vegan diets.
Take Orlando Bloom, for example. While the actor confessed that he still eats steak on occasion, he recently revealed that he's "90 percent plant-based" and loves vegan foods such as porridge with hazelnut milk, and fruit and green juice mixed with "brain octane oil."
Alicia Silverstone, on the other hand, has been completely vegan for more than two decades and her veganism encompases more than what she eats for breakfast, lunch, and dinner. The actress is a successful entrepreneur with her own vegan cookbooks and vitamin brand. She's also a passionate animal rights activist and environmentalist. "Now it's actually cool to be vegan and immensely valued from a health and environmental standpoint," she told LIVEKINDLY.
Continue reading for a list of 50 celebrities who have embraced a vegan diet.
Hollywood's Vegan Celebrities
RZA
RZA hasn't eaten red meat since 1995 and gave up poultry and fish in 1996 and 1997, respectively. During a March 2020 appearance on the Joe Rogan Experience podcast, the de facto leader of the rap group Wu-Tang Clan noted that his decision to go vegan had to do with his health as well as animal welfare. "To be honest with you bro, I just hit you with this right here, the reality of how I feel. No animal needs to die for me to live, ok?," he explained.
RZA, who also has two vegan sons, later added: "I look at my household as a living example that you don't need [animal products] to live."
The musician is also a fan of sustainable fashion and co-founded a vegan clothing and accessories band called 36 Chambers in 2018. The following year, the label collaborated with Embassy of Bricks and Logs to launch a vegan, down-free puffer jacket featuring a lining made with recycled ocean plastic. Additionally, RZA supports animal rights and has urged New York City to ban the sale of fur.
Moby
The musician and animal activist has been vegan for more than three decades (after he was inspired to ditch meat thanks to his childhood pets) and regularly uses his platform to educate people about animal rights and environmental issues. He even has the phrase "Vegan for life" tattooed on his neck.
"I'm a vegan to reduce climate change, improve human health, end antibiotic resistance and rainforest deforestation, but ultimately I'm a vegan for the animals," Moby wrote on Facebook in October 2018. "It's my most deeply held belief; that every animal, human or not, is simply/basically/ineluctably entitled to their own life."
In June 2018, the Grammy nominee sold his personal record collection—which featured more than 1,000 records—and more than 100 pieces of music equipment and donated the money to PCRM, a non-profit research organization that promotes a plant-based diet for optimal health. The same year, he sold his house in New York—which was worth $1.3 million at the time—and donated a portion of the proceeds to his animal rights foundation.
Pamela Anderson
The original vegan influencer has been vegan for decades and even has her own vegan shoe line. She frequently takes to Twitter to share the perks of her vegan lifestyle, and, in January 2021, revealed her belief that "vegans make better lovers." In August 2017, she shared that she decided to go vegan because of factory farming.
"I chose a plant-based diet because I wanted to be healthy. But I think the main reason that I did it was factory farming," she said at the time, noting that she realized how "cruel it is to eat meat." Anderson also pointed out how factory farming is the leading cause of "our biggest issue," climate change.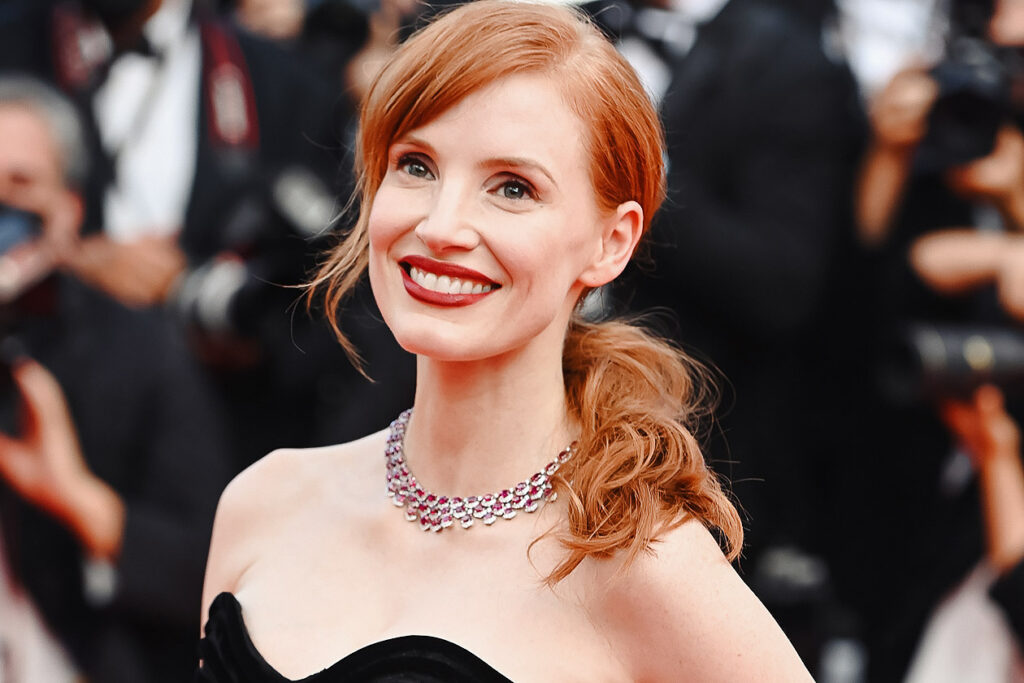 Jessica Chastain
The Oscar winner has been vegan for about 15 years, after switching to a plant-based diet on a fluke and sticking with it after she realized how much better it made her feel. "I found myself going to veganism because a friend of mine had a two week vegan food delivery program she wasn't going to use, so I used it. Immediately I just had more energy than I've ever had in my life," she told W in July 2017. "Being vegan was not anything I ever wanted to be. I just really was listening to what my body was telling me."
In addition to sticking to a plant-based diet, Chastain volunteers with the Humane Society of the United States and opts for cruelty-free red carpet looks. "The more success that I've been afforded in my industry, the more I've gotten to learn about what's going on in the fashion world," she told People in November 2017. "I very strongly believe in buying products that are cruelty-free."
Alicia Silverstone
She will perhaps forever be known as her iconic character, Cher, in the 1990s film, Clueless, but Silerstone's commitment to a vegan lifestyle is just as iconic. The actress has been vegan since she was 21 and is a passionate animal rights activist and environmentalist. "I watched the documentary The Witness and took a look at my dog and thought "If I'm not willing to eat you, how can I continue to eat these other creatures that have the same desire to live, are just as funny, and have the same reaction to pain as my dogs?" she told LIVEKNDLY. "I had a realization that I was an animal lover eating animals and it didn't feel ok to be aware of the terrible reality behind the animal agriculture industry and condone them by actively participating in it with a non-vegan diet."
Silverstone, who also noted that her health improved after she switched to a plant-based diet, wrote a vegan cookbook called The Kind Diet in 2009 and even has her own line of vegan vitamins called Mykind Organics. As she explained to LIVEKINDLY, "These products are so special because we source ingredients from sustainable organic farms and use a groundbreaking organic, non-GMO extraction method without the use of conventional corn alcohol or other harsh chemicals commonly used."
Erykah Badu
"I've been a vegetarian since my senior year of high school, that was 1989," the singer told People in November 2016, adding that she started her vegan diet in 1997. "It's just what's best for my body. If I was a Lamborghini, I would want to put the best gas in it." Badu also noted that her diet gives her energy.
In a February 2019 Instagram post, the singer explained that because of her diet she's only ever needed five "doctors" in her life — nutrients, exercise, sun, sleep and spirit. "When you've got the right foods and nutrients in your body you feel better, so you treat other people better" she said.
Woody Harrelson
The Oscar-nominated actor has followed a vegan diet for more than 30 years and is passionate about the environment, animal rights, and sustainable food. In 2019 he became involved with Million Dollar Vegan—a campaign that works to engage some of the world's most influential leaders with issues surrounding the climate crisis, world hunger, and animal rights, in the hope of creating real positive change—and asked the Pope to go vegan for Lent.
Harrelson also works closely with vegan chefs to promote sustainable food and has encouraged both consumers and his costars to go meat-free. In May 2020, he even urged the state of Texas to ban a cruel pig rodeo.
"I eat vegan, but I mostly eat raw. If I have a cooked meal, I feel my energy drop. So when I first started shifting my diet, it wasn't as much a moral or an ethical pursuit but an energetic pursuit," he told InStyle in May 2018.
Peter Dinklage
The Emmy winner was a vegetarian for 15 years before going vegan in 2014, according to INSIDER. The Game of Thrones star has used his platform on multiple occasions to advocate for better treatment of animals. He was a celebrity ambassador for Farm Sanctuary, the first and largest animal sanctuary in the nation, in 2012.
In April 2014, Dinklage partnered with international animal rights group PETA for a campaign called "Face Your Food" to reveal the realities of factory farming. "The images you're about to see might make you want to turn away, but this is what you pay for every time you buy meat, eggs, and dairy products," he explained.
Tony Kanal
The No Doubt bassist has been vegan for more than eight years and co-founded the Circle V vegan music festival with Moby. He's also an animal rights activist and explained to The Kind Life in October 2019 how his love of animals led him to a plant-based diet.
"My final move from vegetarianism to veganism came when my wife and I had our first child and my eyes were finally opened to the cruelty of the dairy industry. One glaring fact that I had somehow made myself oblivious to for so much of my life was that for a cow to produce milk she has to be pregnant. So, we forcibly impregnate these moms against their will. Then, after they have gestated for the same amount of time as my wife did for our kids, we steal their baby away so we can consume the lactating fluid that was intended for their babies," he said.
Kanal added: "Not only do these mothers have to bear the physical pain of being physically exploited for their entire lives but they also have to endure the emotional heartbreak of losing their children over and over."
The musician is also an investor in Globally Local, the first vegan fast-food chain to go public.
James Cameron
Cameron has been vegan for several years and has since become an outspoken advocate for a shift away from animal agriculture for both health and environmental benefits. "I think what we need is a nice transition to a meatless or relatively meatless world in 20 or 30 years," he told TVZN in June 2019. "I think if we don't make a major shift as a civilization, and I meant that globally, toward plant-based eating, we're just not going to make it."
The legendary filmmaker teamed up with fellow director Peter Jackson at that time to develop plant-based protein that could help pivot New Zealand's farming system toward a more sustainable future. He's also used his art to help advocate for sustainability and released a documentary about all-female vegan anti-poachers in August 2020.
Mýa
The singer, who has a vegan wine line and has advocated for cruelty-free fashion, has been vegan for many years. In an April 2018 video with The Root, Mýa openly discussed the advantages of eating vegan, stating, "Some of the pros of veganism? Let's start with clarity in the mental space, even spiritual connection with the rest of the world, environmentalism, it takes about 25,000 gallons of water to produce one pound of beef."
She also created an online vegan transition guide for those wanting to make the switch but unsure as to how to proceed.
In a June 2020 interview, the songstress credited veganism with reversing her anemia and osteopenia. She also noted that she gained a sense of "peace and calm."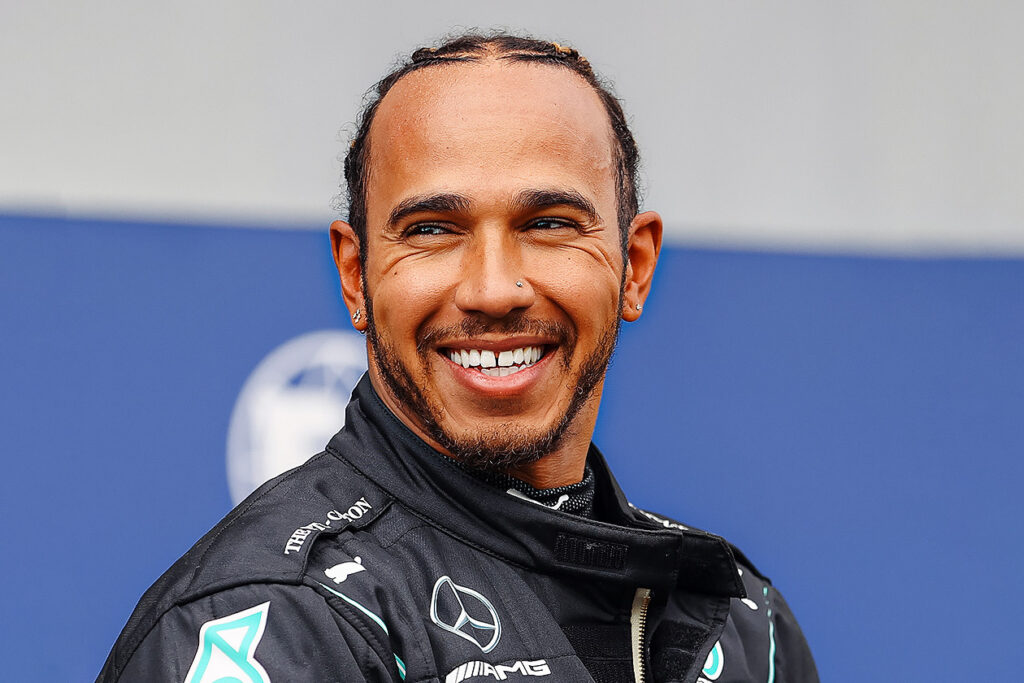 Lewis Hamilton
The British racing driver went plant-based in 2017 after watching the vegan documentary What the Health. A year later, he executive produced the documentary The Game Changers, which examines misconceptions around plant-based eating, protein, and strength.
After sharing an image of deceased pigs—a product of the meat industry—on Instagram, Hamilton explained why he decided to go vegan. "We all have a voice, I have this platform and so to not use it correctly would be wrong of me. Nobody is perfect, I certainly am not but this is actually happening everyday to so many animals worldwide," he wrote at the time. "This is why I have decided to go to a vegan plant based diet, been over a year now. Yes it's hard, nothing's ever easy but I've felt the best I've ever felt for the past year."
Hamilton, who backs a London-based vegan burger chain, regularly talks about animal exploitation issues like factory farming and animals in captivity on social media and during interviews. He's also addressed the illegal wildlife trade and has called for an end to shark finning.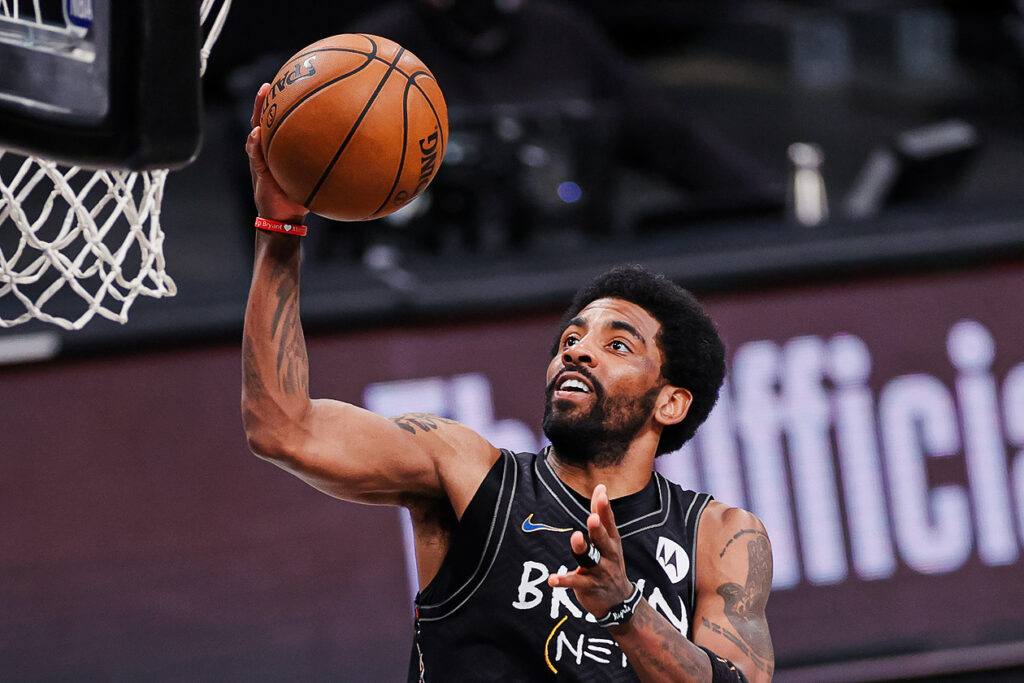 Kyrie Irving
The NBA star adopted a vegan diet in 2017 and noted that making the switch has improved his game. "I had to get away from [meat and animal products]," he said at the time. "So my energy is up. My body feels amazing." Later that year, Irving appeared in a Nike ad in which he attributed his basketball skills to his vegan diet.
More recently, in March 2020, the athlete donated 200,000 vegan Beyond Burgers to the Food Bank for New York City in an effort to aid its hunger-relief efforts during the coronavirus pandemic. The Brooklyn Nets player also partnered with non-profit organization Feeding America and cargo company Lineage Logistics to distribute 250,000 meals to food insecure New Yorkers through the food rescue organization City Harvest.
Will.i.am
The Black Eyed Peas frontman went vegan in 2017 and credits the diet with improving his health. "After we finished filming [The Voice] in December I went home, I became vegan, I biked to work, and I lost 15 pounds," he said the following year.
Since then, the rapper has become a huge advocate for all aspects of a vegan lifestyle. He has spoken out about the ethics of killing animals for food and questioned corruption in the food industry. "For many years I would go to sleep and wake up tired, and that's 'cause my body was processing god knows what type of crazy wicked sh*t that was approved," he said in an Instagram video in March 2018. "There's a force, a dark force, out there that is doing a very good job of keeping us all sick."
Suzy Amis Cameron
"You can go plant-based for your health, for the animals, for the environment or for your waistline, your skin, your sex life, or whatever it might be," the educator and environmentalist told LIVEKINDLY in October 2018. "But the thing is, if we don't do something about the environment, none of those other things matter." Cameron, who is married to vegan director James Cameron, has been vegan for about 10 years.
She published a book outlining how to change the world with one vegan meal a day and is the visionary behind MUSE—the nation's first fully vegan school.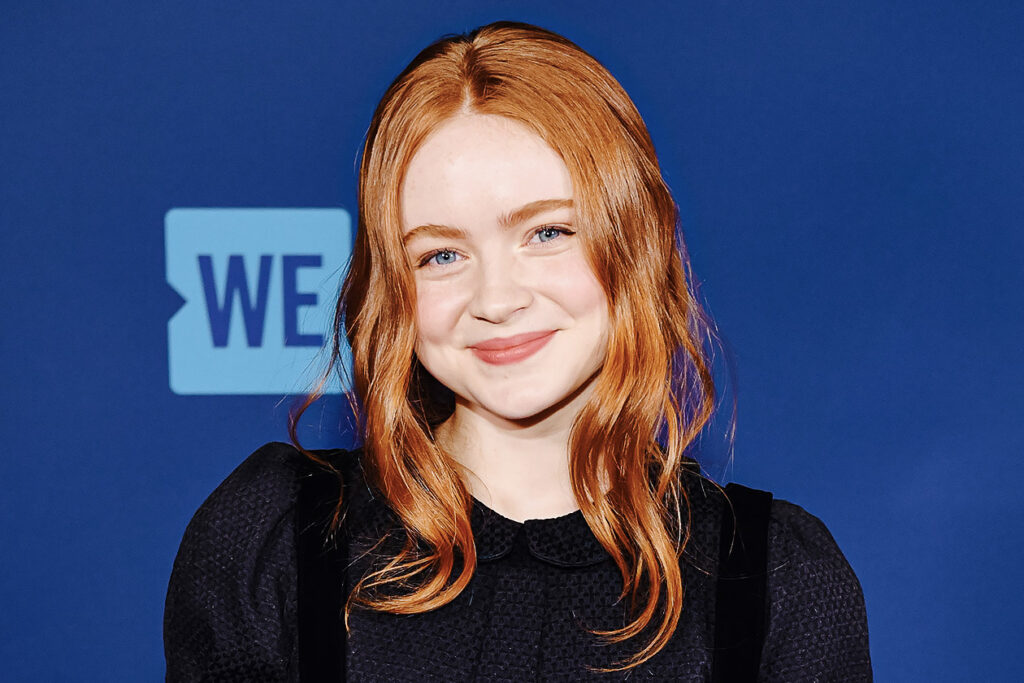 Sadie Sink
"I am a passionate vegan. I actually was a vegetarian for about a year and when I was working on The Glass Castle with Woody Harrelson," the Stranger Things actress said in October 2017. "He and his family inspired me to become a vegan."
Sink opened up to Elle about her passion for veganism in 2018, and noted that ethical reasons contributed to the diet change. "I realized what goes on in the egg industry and the dairy industry," she explained at the time. "Then I was like, 'That's it! [I'm] going vegan!' and I just kind of went cold turkey basically."
Stella McCartney
The vegan fashion designer and daughter of fellow vegan Paul McCartney has openly criticized the fur and leather industry and is an advocate for cruelty-free fashion. "There is this human instinct to put people down when they're doing something good. Anything is better than nothing. It's a positive thing," she told the AP in October 2018 when she was asked about London's decision to go fur free during Fashion Week.
In the past, McCartney has collaborated with Adidas to launch a sustainable sportswear collection made from recycled ocean plastic, debuted cruelty-free "fur-free fur," and launched vegan leather Stan Smith shoes. She also worked with Taylor Swift in August 2019 to create a vegan fashion line inspired by the singer's Lover album.
In June 2020, Stella joined forces with her father Paul and sister Mary McCartney and signed a letter asking to change the guidance that makes meat, dairy, and fish products mandatory in UK school meals. "No one needs to eat meat, so it shouldn't be mandatory to serve it in schools," the trio said in a statement. "It's time to revise the School Food Standards to help the planet, spare animals, and promote healthy eating."
Ruby Rose
The Batwoman star began her gradual transition to the vegan diet in 2013. In June 2018, she shared a look inside her refrigerator, which was filled with vegan foods such as Kite Hill vegan yogurts, Field Roast vegan meat and Vego Chocolate.
The Australian actress, who has repeatedly urged her social media followers to go vegan, is also an investor in the organic beverage brand Rebbl, which produces plant-based drinks with a social justice mission. Partnered with Not For Sale, a nonprofit organization working to end human trafficking, Rebbl sources all of its ingredients ethically and sustainably and donates 2.5 percent from each sale to the organization.
Jerome Flynn
The actor is one of several Game of Thrones alums who follows a vegan diet. Flynn is also an outspoken animal advocate who posed in a small metal cage in the middle of London in December 2019 to highlight the "horrific" conditions factory farming pigs are forced to live in.
"Factory farming is one of the most horrific examples of how far we have strayed from our hearts," Flynn said in a statement at the time. "We call on all our major retailers to do the right thing. And lead the way by ceasing to trade in any meat that isn't high welfare."
Flynn has also used his platform to urge fans to stop buying huskies—canines that resemble GOT's wolf-like wild dogs, known as "Direworlves."
Mayim Bialik
The Big Bang Theory alum is a longtime vegan and activist. She is the author of the cookbook Mayim's Vegan Table, which features more than 100 plant-based, family-friendly recipes, and was part-owner in a fast-casual vegan restaurant in downtown Los Angeles that has since closed.
Bialik also regularly uploads videos related to living a vegan lifestyle on her YouTube channel. In one of her most popular videos, "5 Worst Things To Say To A Vegan," the neuroscientist addressed some of the most common misconceptions about veganism and explained why it works for her. "I can't make you care about [animal welfare] if you don't," she noted, adding that there's also a persuasive environmental argument for going vegan. "The mass consumption of animal products and by-products contributes significantly to a variety of environmental issues."
In March 2018, Bialik praised a vegan documentary called Eating You Alive, which explores the relationship between health and diet in the United States. "It's not scare tactics or weird anecdotes," the star tweeted at the time. "It focuses on the medical impact of the way Americans are told it's healthy to eat."
Travis Barker
The Blink-182 drummer has been vegan for more than a decade and decided to switch from a vegetarian diet to a vegan one after surviving a plane crash in 2008. "Honestly, ever since I found this way of eating I have endless amounts of energy," the rocker told Men's Journal in May 2017. "I can go all day, and after it all I never find myself getting tired. No matter what kind of shows I have done, or workouts I do on top of it, I still have to force myself to sleep at night."
The songwriter, who is an investor in vegan L.A. hotspot, Crossroads, is also an animal rights activist. "I've been vegan for many years and vegetarian for even longer," he told PETA in February 2017 in a video for the organization's Never Be Silent campaign with his daughter, Alabama Barker. "We love animals and this was a campaign we wanted to be part of … we've always loved animals and we choose not to eat animals."
He launched his own vegan CBD line with tinctures for humans and their pets in March 2021.
Alan Cumming
The Good Wife alum went vegan after following a vegetarian diet for several years. In a September 2016 video he said that after cutting dairy out of his diet, his rosacea disappeared, his vocals improved, and he experienced a spike in energy. "I feel younger," Cumming explained at the time, "I am not asking my body to cope with things that it's not necessarily good at coping with."
Since adopting a vegan diet, the Scottish-American actor has used his platform to stand up for animals. In June 2016, volunteers passed out postcards of Cumming wearing his PETA "Not a Dairy Queen Shirt," featuring information on the cruelties of the dairy industry as well as the health benefits of a vegan diet.
Additionally, in June 2018, Cumming collaborated with PETA on an anti-dairy campaign in which he donned a pink T-shirt with the cheeky slogan "Not a Dairy Queen."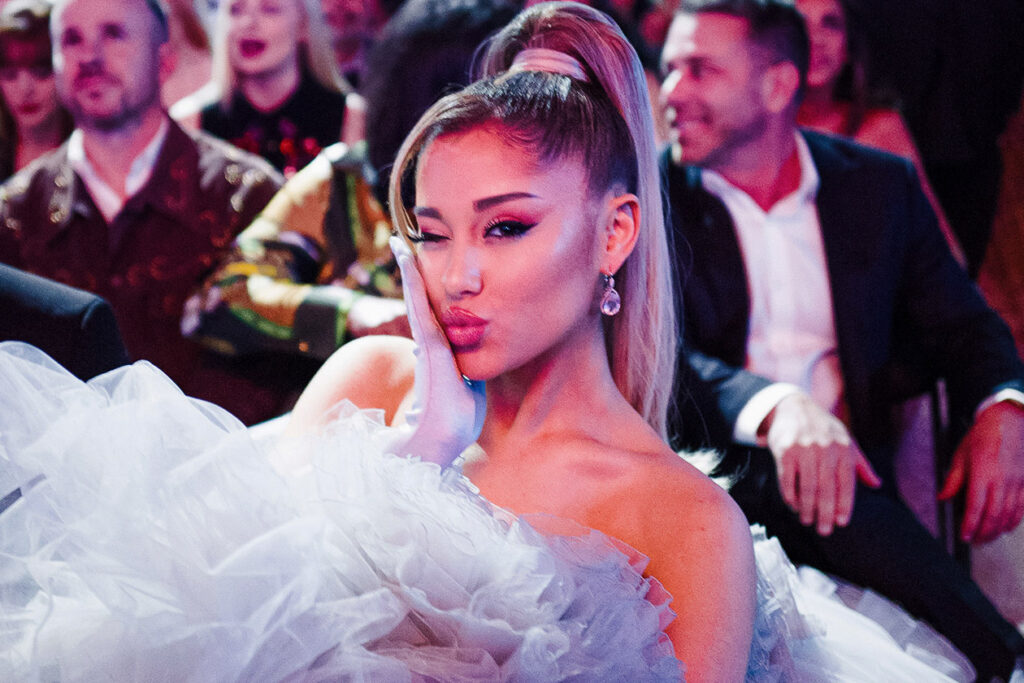 Ariana Grande
Grande adopted a plant-based diet in 2013 and has long been a vocal advocate for animal rights. The "Positions" songstress has several rescue animals, as well as a pet pig, and often wears vegan faux fur.
"I love animals more than I love most people, not kidding," the Grammy winner told The Mirror in December 2014. "But I am a firm believer in eating a full plant-based, whole-food diet that can expand your life length and make you an all-round happier person. It is tricky dining out, but I just stick to what I know–veggies, fruit, and salad–then, when I get home, I'll have something else."
Kat Von D
The successful entrepreneur is a passionate vegan and animal rights activist. She has used her platform to speak up for the animals on a number of occasions, and even lent her voice to the 2018 animal rights documentary Dominion, which examined the horror of animal abuse.
Von D launched an environmentally-friendly, vegan shoe line called Von D Shoes in November 2019 and told LIVEKINDLY about why it was important that the line be both vegan and sustainable. "More than ever, I want to do whatever is in my power to change things," she explained at the time, emphasizing the "disastrous impact" that humans are currently having on the planet. "The new vegan leathers that are coming out every day are impressive and not only beautiful and durable, but many of them are extremely sustainable and eco-friendly … My goal is to make it as easy as possible for people, vegan or not, to live a cruelty-free lifestyle."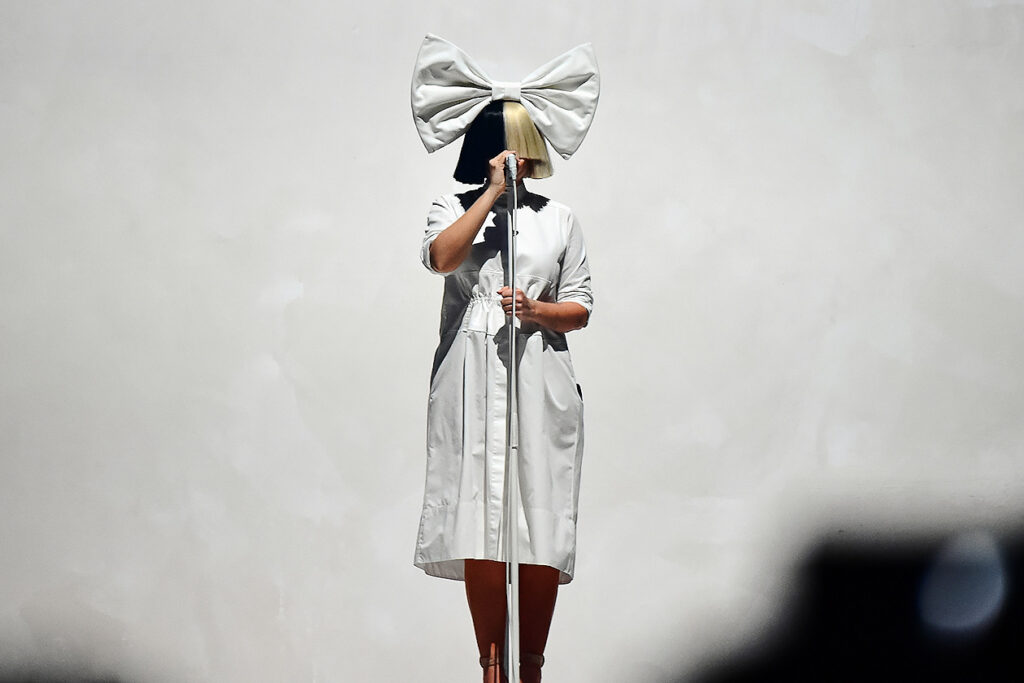 Sia
The Australian singer confirmed she was vegan via Twitter in May 2014. In 2018, she took part in the revelatory animal agriculture documentary, Dominion, and she has appeared in several PETA campaigns.
In February 2016, the pop star appeared in a PSA for PETA targeting the Canadian commercial seal slaughter. The announcement was set to her track, "Free the Animal." She said at the time: "The dwindling seal slaughter reflects the world's growing disgust with killing animals for fashion. I'm thrilled that PETA is using my song to keep reaching the masses with this clever PSA."
In another PETA campaign from October 2020, the Grammy winner posed with her dog, Pantera, to help end the animal homelessness crisis by urging her fans to spay and neuter their animals.
Lucy Watson
The Made in Chelsea star went vegan several years ago after nearly a decade as a vegetarian. "I made the switch from vegetarianism to veganism 12 months ago for ethical reasons," she told Women's Health in January 2018. "The upside of that is that it's had a positive impact on my health–I have so much more energy and I lost a stone simply by cutting out all the cheese and milkshakes I used to consume."
Watson is a PETA ambassador and animal rights campaigner who is committed to animal activism. In addition to her activism, she has authored two vegan cookbooks—Feed Me Vegan and Feed Me Vegan for All Occasions. Her third book, Awakenings: A Guide to Living a Vegan Lifestyle, was published in December 2020.
James Cromwell
The Oscar-nominated actor went vegan while playing Farmer Hoggett in the 1995 film Babe. "I went to Australia to do this film with these extraordinary animals and every day, whenever lunch was, I'd go and on the table would be every animal that I had just worked with, being served for lunch," he told CGTN America in July 2015. "I thought, 'Ya know, I've come this far. I might as well go the whole hog.'"
Cromwell is also a dedicated animal rights advocate, who has been arrested numerous times while protesting. In October 2019 he was arrested while trying to stop animal testing at Texas A&M University, and he was previously put behind bars following a SeaWorld protest.
Benedict Cumberbatch
Though it's not clear exactly when the Avengers: Infinity War star stopped eating meat and animal products, he has mentioned his plant-based diet in several interviews. When asked about a trip to Singapore in April 2018, the Brit stated: "I had local food, as much as a vegan can."
Additionally, when he was asked the all-important 'Do you like Nando's?' question during a sit-down with teen star Sophia Grace that same month, Cumberbatch replied: "Well, only if they've got a vegan option."
While Cumberbatch hasn't explained what motivated him to go vegan, the Sherlock star also supports environmental causes and sustainable fashion. He was spotted at one of Extinction Rebellion's climate protests in London in October 2019 and wore a vegan suit to the 2019 Met Gala.
Natalie Portman
"I became vegan after reading [Jonathan Safran Foer's Eating Animals]," the Oscar winner told Us Weekly in June 2018, adding that the book's content pushed her to reconsider her previously vegetarian lifestyle. "I think it just really made me aware of how the factory farming world doesn't let us see what's going on. It's so hidden, and you're not even allowed to talk about it. They sue people for even talking about the industry, and it's because there's a lot to hide … Putting millions of animals into small spaces with terrible conditions and having them be sick. And then the human effect of the pollution that it creates and the health problems it creates. It's really hard not to want to change."
Proving that there's a vegan version of everything, Portman added: "There's, like, tempeh bacon, coconut milk, yogurt, cheese is made out of cashews and all sorts of delicious things that they've figured out that are great replacements for those things you crave."
The Black Swan star noted that her children with dancer Benjamin Millepied, son Aleph and daughter Amalia, follow a plant-based diet as well. The Harvard grad frequently shares kid-friendly vegan cooking tutorials on her social media platforms.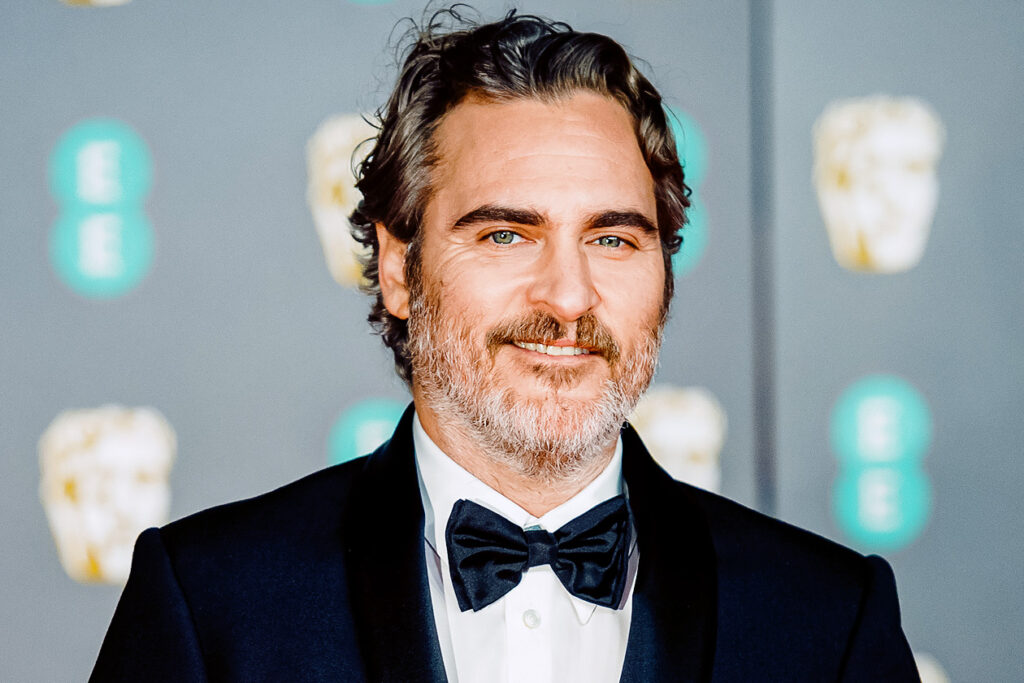 Joaquin Phoenix
The actor and activist has been vegan since he was three, and is now one of the most outspoken vegans in Hollywood. He's particularly concerned with the treatment of cows and other farm animals and spent a portion of his February 2020 Oscars acceptance speech sharing his thoughts with a star-studded audience.
"I think we've become very disconnected from the natural world. Many of us are guilty of an egocentric worldview and we believe that we're the center of the universe," he said at the time. "We go into the natural world and we plunder it for its resources. We feel entitled to artificially inseminate a cow and steal her baby, even though her cries of anguish are unmistakable. Then we take her milk that's intended for her calf and we put it in our coffee and our cereal."
Rooney Mara
Phoenix's fiancée also omits meat from her diet and was motivated to do so because of her love for animals. "I've been a vegetarian on and off since I was 9 … On and off only because my parents told me I was a picky eater and wouldn't always let me," Mara told Coveteur in August 2018. "Then, about seven years ago, someone sent me this horrible undercover video of a pig, which led me to another horrible video and another horrible video. I went down the YouTube rabbit hole."
Since going vegan, Mara has gone undercover to expose factory farms and is producing a documentary (with Phoenix) about how factory farming can lead to harmful zoonotic diseases.
In 2018, the Carol star co-founded a fashion label called HIRAETH, which produces vegan versions of high-end clothing and accessories.
Kate Mara
The House of Cards alum went vegan in 2013 once she learned more about her body. "I decided to go vegan after reading a book called 'The Beauty Detox Solution' by Kimberly Snyder. "It's about how our bodies are not meant to digest animal products and what we should be eating instead. It made a lot of sense to me," she told Shape in April 2018. "I've always had a pretty sensitive stomach, but when I cut animal products out of my diet, I felt so much better."
The star has said that her love of animals also contributed to the diet change. "The animal activist in me as well just felt a responsibility to, you know, make choices about what I'm putting into my body and not just do whatever I want because something tastes good or something's convenient," she explained.
In July 2018, Mara opened up about what it's like to be married to actor Jamie Bell, who is not vegan. "We make different choices when it comes to food, but he totally respects me and my choices," she said. "One of the things that he is more aware of now and definitely makes more of an effort is that he does not eat as much meat as he used to."
Emily Deschanel
The Bones alum has been vegan since she was 17 and was motivated to cut meat and animal products from her diet after watching the 1991 documentary, Diet for a New America.
"It's all about the impact on the environment that meat and dairy has and that factory farming has on the environment, and what it does to the animals, how horribly they're kept," Deschanel explained on the Switch4Good podcast in February 2019. "How horribly they're treated and killed for us to eat, and then it's about how it affects our health. It was always the triple-whammy that really affected me."
The actress, who is a board member of Farm Sanctuary animal haven, noted that her son follows a vegan diet as well.
Nathalie Emmanuel
"I ate vegan for one week at first—I would have reassessed if it made me feel really ill, but it made me feel really good, so I carried on for another week, and then I felt even better," the Game of Thrones alum told Women's Health in April 2019. "People kept coming up to me and telling me I looked glowy and my eyes looked really bright, so I kept going."
Emmanuel took a stand for animals in April 2018 when she took to Instagram and posted a photo of herself wearing a "I Am Forever Against Animal Testing" t-shirt. The shirt was designed to promote her partnership with The Body Shop's Cruelty-Free International campaign to end animal testing on a global scale.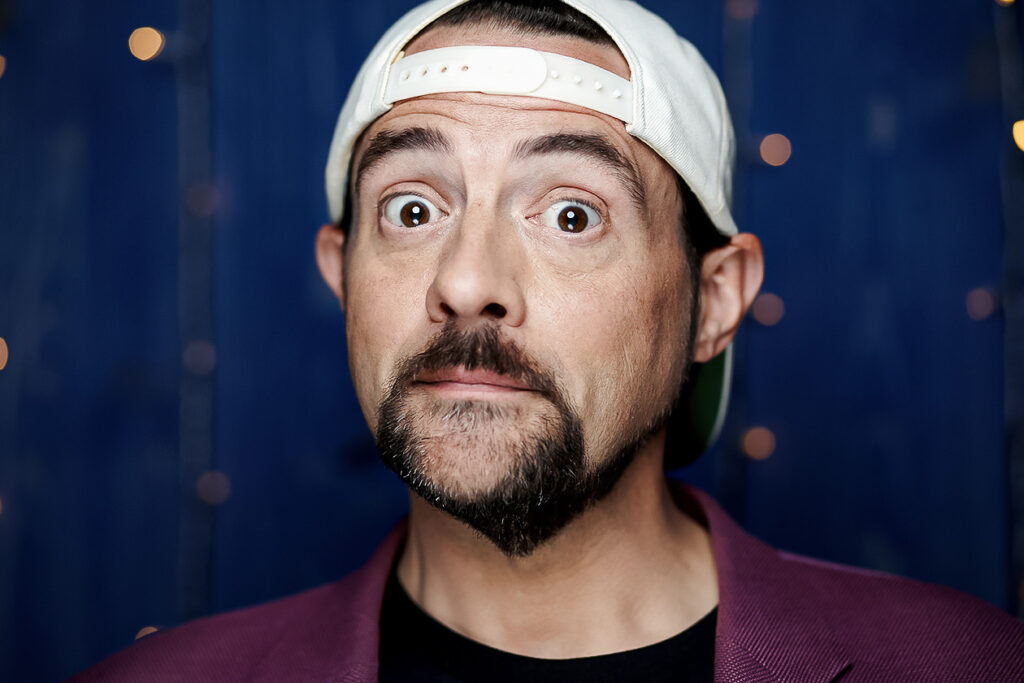 Kevin Smith
The director explained how his daughter, Harley Quinn Smith, and the heart attack he had in February 2018 led him to a vegan diet.
"My heart attack was the weirdest, worst thing that ever happened to Harley. It was like a punch in the face. She stuck by my side in the hospital. She was there when the nutritionist brought up going vegan. The kid seized on it. So I said, 'You know what, I've eaten the way I've wanted to for like 47 years, and it led me here. So I'll try eating your way for six months,'" he told Mercy For Animals in March 2019. "It's been a year. I'm never tempted. I feel like more has been given to me, including more time, more compassion. Once you step away from the meat industrial complex, suddenly you're just like, 'Geez, that's a lot of misery.'"
Smith opened a real-life version of the fictional fast-food joint, "Mooby's," which is featured in many of his films. The eatery, which debuted as a pop-up in Los Angeles in April 2020, had plant-based dishes on the menu. In September 2020, the filmmaker started a vegan podcast with his daughter called Vegan Abattoir in which the pair debunk common misconceptions about a plant-based diet.
Harley Quinn Smith
The actress started out as a vegetarian and went vegan over four years ago. "My mission is about saving my own damn life," Kevin Smith told LIVEKINDLY in September 2020 of his own vegan journey. "And Harley's mission is saving the lives of animals first and foremost, then people after that—but animals first."
The Yoga Hosers star added: "It's a long journey. But you can't be too hard on yourself because you do kind of realize more and more every day how much society has made animal cruelty a very normalized part of life."
In 2019, Harley opened up to LIVEKINDLY about how her adopted pet rabbit, Cinnamon Bun, who had previously been abused, inspired her to ditch meat. "[I] would be very hypocritical to continue living my life in a way that contributed to animal cruelty when I saw firsthand what human compassion can do to an animal," she said at the time.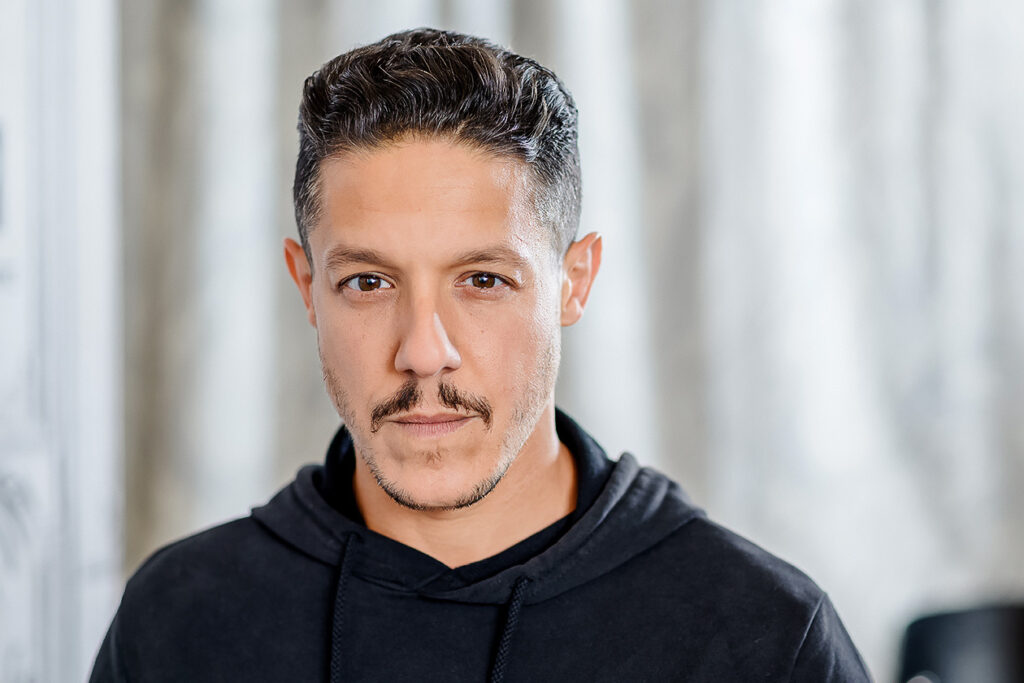 Theo Rossi
The Sons of Anarchy alum has been vegan since 1997. "I have a certain connection to animals. I've never lived a day in my life without multiple animals," he shared on the PEOPLE Every Day podcast in June 2021. "I'm surrounded by animals. They've kind of dictated my life. My dog is right next to me. I've always rescued dogs, and I've had cats, hamsters, and snakes."
Rossi was also persuaded to ditch meat once he learned more about how it is processed. "There's eat to live, and live to eat. I eat to live," he added. "I'm not big on that whole food thing."
Tabitha Brown
The vegan influencer and chef switched to a plant-based diet about three years ago in an effort to address some ongoing health issues. She had been experiencing chronic pain, blurred vision, panic attacks, and anxiety for a year and seven months straight before her daughter encouraged her to watch What The Health. The documentary explores the link between a diet rich in meat and animal products and disease.
"My husband and I, we all sat down together, we watched it, and I was like, 'Oh, wow, this is very interesting.' What got me, is that when they were talking about diseases and our heritage, they would eat the same thing causing the same disease. For me, my mom died at 51. She had ALS. My dad is 68, he's the oldest male to live in the family. A lot of my aunts, uncles, and family members died very young of heart attacks, strokes, and rare sicknesses. To me, meat was the common denominator," Brown explained to Goodful in April 2020. "And I thought to myself, 'Well, I haven't tried that, right?' And they were talking about plant-based eating on What The Health. So I told my husband, 'I'm done with the dummy drugs, all the guinea pig drugs that the doctors have given me over this last year and a half. Nothing has worked. If I've tried all that stuff, honey, I can at least try to do this vegan thing for 30 days and see if it makes me feel better.'"
According to Brown, the switch had a positive effect on her health almost immediately and she hasn't looked back since. "We decided, as a family, to do a 30-day vegan challenge and on day 10 my headaches went away. I remember I was walking through my kitchen and was like, 'my head ain't hurting.' I started feeling better from that day. I started getting my energy back. I just started feeling like myself again," she recalled. "On day 29, I told my husband, 'I think this is my path, I'm going vegan.'"
These days, Brown is known for her viral TikTok videos, in which she shares some of her favorite vegan recipes. The actress has also landed television roles as well as talk show, and in February 2021 Brown revealed she'd signed a deal to release two books—an inspirational book and a cookbook.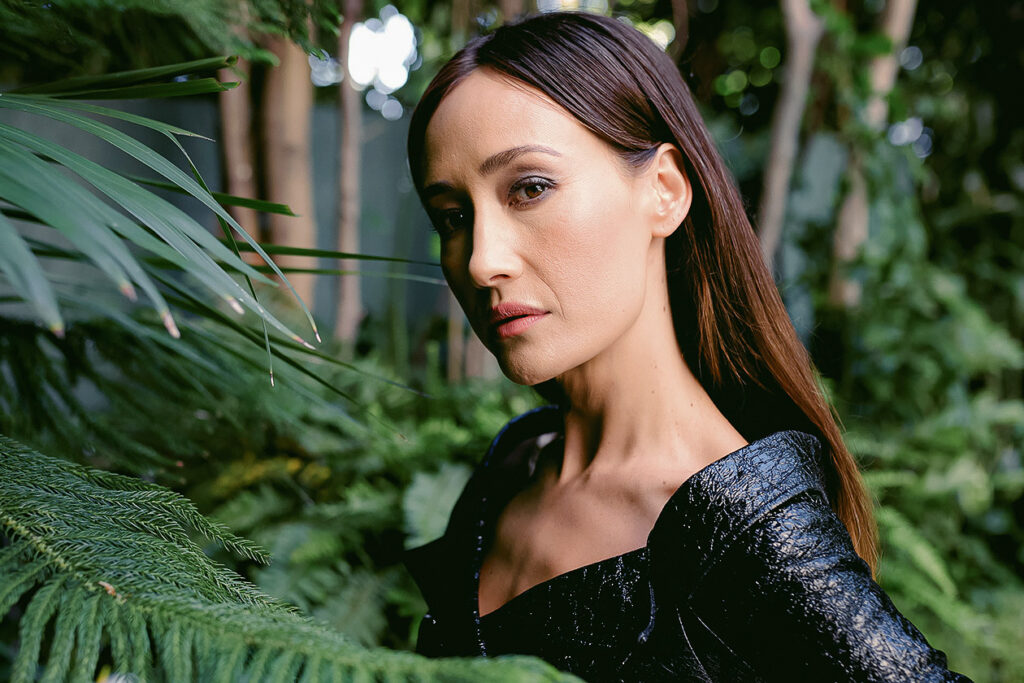 Maggie Q
The actress, who hasn't eaten meat in years, spoke to VegNews about going vegan.
"I transitioned to a plant-based diet about 19 years ago while living in Hong Kong. I attended a concert, and a PETA Asia employee was tabling outside of the show. I was watching her, and it didn't seem anyone was paying much attention to what she was offering. It made me feel bad for her, so I walked over. We connected, and she sent me information on animal welfare in the fashion, food, and entertainment industries," the actress said in September 2017. "It made me sick, but nothing prepared me for the truth of the environmental impact of meat production. I quit cold turkey and never looked back. I didn't understand how I could have ever claimed to love animals but hadn't made the choices to protect them."
Maggie has also used her platform to support animal rights. In April 2020, she and actress Diane Keton urged congress to ban gig cats as pets. "The wild animal trade is a dark business and a profitable one. The purpose of these animals on this planet is their contribution to the greater ecosystem," Maggie told LIVEKINDLY at the time. "If [tigers] aren't living that life …(with the exception of conservation programs that re-release animals into the wild) they are not living their actual purpose. Possession is an act of Ego, not an act of love."
Elliot Page
Page has also used his social media as a platform to discuss the environment, animal rights and raise awareness about the realities of animal agriculture.
"Why are vegans made fun of while the inhumane factory farming process regards animals and the natural world merely as commodities to be exploited for profit?" he tweeted in March 2011. To this day, that quote is still circulated and repeated by vegans and animal lovers across social media platforms.
Billie Eilish
The Grammy winner was raised vegetarian, but wrote about why she switched to veganism on her Tumblr in May 2018. "I went vegan like four years ago. There were a lot of reasons. I love animals and I just think there's no point in creating something out of an animal when the animal is already there. Leave animals alone. Damn," she shared. "Also I'm lactose intolerant and dairy is horrible for your skin and my skin is VERY aware of that."
In the years since, the "Bad Guy" singer has spoken out for animals and the planet on numerous occasions. For example, in June 2019 she condemned the meat and dairy industry and encouraged people via her Instagram Stories to "be smarter" about their meat consumption. Additionally, in September 2019, Eilish advocated for living a greener lifestyle in an effort to prevent extreme weather conditions.
In April 2020 the Los Angeles native and her brother, Finneas Baird, held a concert to support vegan restaurants. The musical event came one month after the siblings' mother, Maggie Baird, launched Support & Feed—an initiative that helps people support their favorite vegan businesses and workers on the front lines during the coronavirus pandemic.
Taraji P. Henson
The Empire alum opened up about her decision to go vegan in January 2019, telling InStyle: "It took a doctor in Macon, Georgia, to say, 'If you don't change what you're doing, you're going to get stomach cancer.' … So I switched everything up out of necessity. I want to live. Thank God, because I feel so much better."
In addition to living a vegan lifestyle, Henson is also an animal rights advocate. In February 2011, she posed nude in one of PETA's "fur-free" campaigns. She also was featured in a PETA campaign that discussed the dangers of chaining up dogs.
Leona Lewis
The "Bleeding Love" songstress grew up in a vegan household and threw a fully vegan wedding in 2019.
In February 2016, she opened up to Metro UK about how she first went vegan. "I would go to farms a lot with my mum when I was younger to look at the animals—chickens and pigs—and I began to realize that I was eating those same farm animals I loved to go to feed and to be around all the time. I remember saying to my mum I just would not eat it any more. I stopped when I was about 6 or 7," she recalled. "I went to and fro with being vegetarian throughout my teens until eventually I was like, 'No, I'm not going to eat it.' Also I remember walking along Oxford Circus as a child and seeing big posters of animals being tested on. Seeing those images when you're little is quite traumatic. That is quite a vivid memory."
Lewis has also supported PETA, even narrating a December 2015 PSA about the leather industry.
Lizzo
The Grammy winner announced she began a vegan lifestyle in 2020 via a series of TikToks. According to Lizzo, her vegan diet is all about health and joy. "As a new vegan, I'm enjoying exploring flavors from plants and plant-based proteins! Every journey is personal and deserves to be celebrated," she wrote in a caption of one of her vegan TikTok videos in June 2020. Lizzo continues to share some of her favorite plant-based recipes and vegan food hacks on the social media platform.
About six months into her vegan diet, the musician shared another TikTok and said: "This is from a whirlwind tour and year, and after being seven years vegetarian, going back to eating all animal products. This is me now, making my vegan protein shake." She added: "Honestly, I am both of these women and I cannot condemn one woman or the other. I'm happy both ways and right now, this is what's bringing me joy."
The "Juice" songstress is also an outspoken voice for body acceptance and her infectious self-love has made people around the world feel seen and accepted. Check out some of her tastiest vegan recipes here.
Venus Williams
The tennis star told Health in February 2021 that she transitioned to a plant-based diet after she was diagnosed with Sjögren's syndrome in 2011. "I started for health reasons. I was diagnosed with an autoimmune disease, and I wanted to maintain my performance on the court. Once I started I fell in love with the concept of fueling your body in the best way possible. Not only does it help me on the court, but I feel like I'm doing the right thing for me."
"It really changed my life," she added, noting that omitting meat and animal products from her diet allowed her to play tennis again. "Because it was starting to take away what I loved, I had to make some changes, I had to change my life. Thankfully, I was able to find something that helped me get back to doing what I loved."
In December 2020, Williams launched a vegan protein brand called Happy Viking, which is inspired by her own eating regimine.
Serena Williams
In 2012, the tennis phenom told Bon Appetit that she cleaned up her diet, and started eating vegan after her sister Venus was diagnosed with Sjogren's syndrome.
By February 2020, Williams launched a vegan leather fashion line that was designed to help save the planet. "I feel like a lot of things are being killed and we're not saving the earth," she told Essence at the time. "We can all just do one small thing and help out so that was also a lot of our inspiration."
In June 2021, the Williams' sisters former chef, Lauren Von der Pool, told LIVEKINDLY about how she would often prepare vegan tacos and smoothies for the pair, which helped them flourish on the court. "People have this idea that you cannot be a high level athlete or high level performer on a vegan diet," she said. "And that's just absolutely not true, because the only thing that changed with Serena was me and her food."
Zac Efron
Efron has adopted a plant-based diet at key points in his life and career. For example, when the California native signed on to play serial killer Ted Bundy, he followed a vegan diet. In a March 2018 interview with Teen Vogue, shortly after the film started principal photography, Efron called his meat-free diet "brilliant."
"It's completely changed the way that my body works, and the way that I metabolize food, the way it turns into energy, the way that I sleep," he added. "It's been great for my exercise, and great for my routine."
Efron has also talked about his "love" of vegan food extensively on his Netflix series, Down to Earth. "First-time vegan eating is easier to do with familiar flavors," he said during the London episode, which saw him cooking vegan curries with Deliciously Ella owner Ella Mills. "I love to eat plant-based, and I prefer Indian and Thai curries."
Beyoncé
Bey doesn't follow a vegan diet all the time, but she'll typically eat plant-based to get in shape. She reportedly went vegan in 2013, and then again in 2018 ahead of her Coachella headline performance. She is also well aware that a meat-free diet is better for the environment.
"The information is hard to ignore. The benefits of a single plant-based meal a day can have such a profound impact on our health and the environment," Beyoncé and her husband Jay-Z said in a statement in January 2019.
At the time, the pair were encouraging others to go vegan with help from a vegan meal planning service called 22 DAYS NUTRITION, which the singers co-own with vegan exercise physiologist Marco Borges.
Ava DuVernay
The award-winning filmmaker views veganism as a social justice issue. "Like many food trends that seem new, black veganism has historical roots. For a lot of black people, it's also about social justice and food access," she tweeted in 2017. "The food we've been eating has been killing us."
DuVernay was also named one of PETA's "Most Beautiful Vegan Celebrities of 2018."
Katy Perry
In January 2021, the Grammy winner revealed her decision to go vegan. "I'm about 95% ready to be 100% vegan," she tweeted at the time. "My dog Nugget has been joining me on this journey for the past 4 months."
Prior to that declaration, Perry was publicly a fan of vegan products, particularly the Impossible Burger. She's an investor in Impossible Foods, and has endorsed the company on multiple occasions, and has also invested in Bragg Live Food Products.

The "Firework" songstress has even dressed up as an Impossible Burger on more than one occasion. The first time was for the 2019 Met Gala, and the second was for Taylor Swift's "You Need to Calm Down" music video.